Need some inspiration for backpacking breakfasts for your next trip? Look no further! I've got healthy and practical ideas for you below 🙂
Having a good, nutritional breakfast to start the day off with can really set you up for the day, and help you to achieve more constant energy levels for the rest of the day, especially if you choose a slow release option.
Feel free to mix and match the ideas below to reach your calorie requirements. Try to make breakfast a decent sized meal to set you off on the right foot.
Porridge
One of the most popular breakfasts for long-distance hiking is porridge. It's cheap, comes in many different flavour options, is easy to prepare and will keep you going. You also won't waste too much time preparing it.
If you want you can buy ready-made packs such as the Quaker brand Oat So Simple individual packs which come in Cinnamon, Apple & Blueberry, Golden Syrup and other flavours.
However, it seems to me to be an expensive way of buying oats, and it really doesn't take long to make your own version from the bare ingredients. You also have more control over the quantity than with bought options, and as we're looking to get a pretty decent sized breakfast in, it would likely take more than one pack to fulfil your needs, which wouldn't be very practical.
The Apple & Blueberry flavour nutrition info tells me that it will have 221 kcal for a 36g packet if it's made with semi-skimmed milk. If we're only having porridge, we'd need to eat three or four packets to meet our needs! So go on, whip up your own flavours with the supermarket own brands of porridge oats and get breakfast sorted in no time.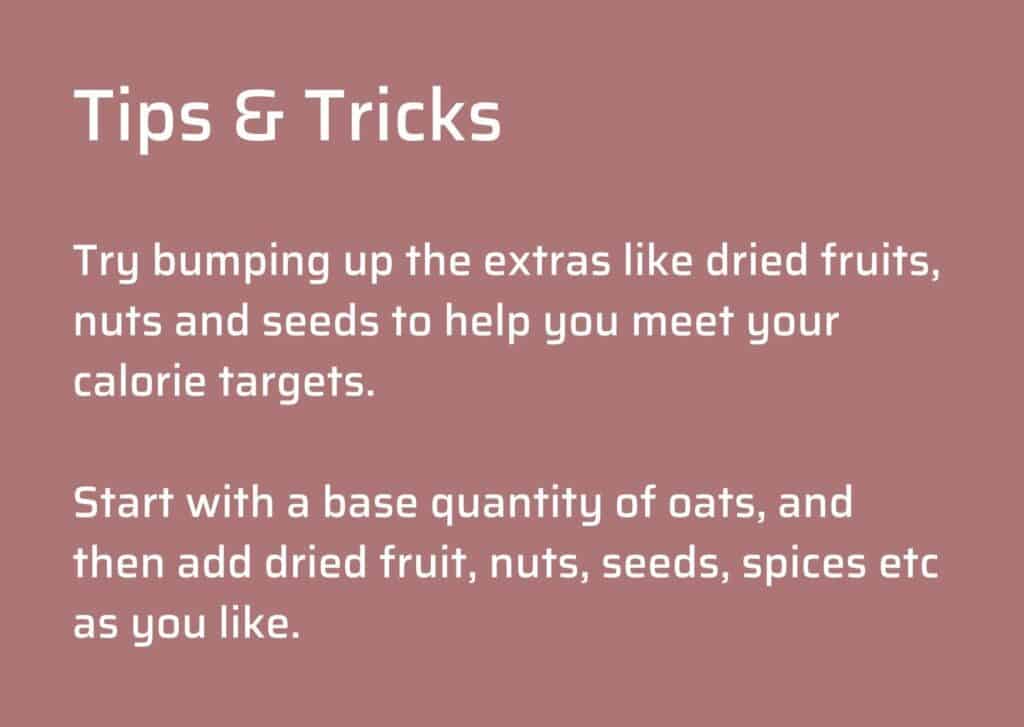 Here are a few ideas for you:
Sultana and Sunflower Seed Porridge
1 cup rolled oats
30 grams sultanas (small handful)
20 grams sunflower seeds (about a heaped tablespoon)
1 tablespoon brown sugar
Method: Mix all ingredients together and place in a ziplock bag or reusable bag before you go.
When ready to eat: When ready to eat it, add 2 cups of water and cook for a couple of minutes on your stove.
Contains approx. 508 calories
Variations:
Change up the dried fruit and put in dried cranberries, blueberries, apple, banana.
Add mixed nuts if you don't find them too difficult to digest, chia seeds, linseeds.
Add cinnamon, dried milk powder (try coconut milk powder), cocoa powder, powdered ginger to zhush it up even more.
Be aware that you may need to add more water when using cocoa powder and other powdered ingredients, as they absorb some of the water.
Overnight Oats
The above recipe template also works for overnight oats – just add the water the night before straight into the ziplock bag and mix it really well before tucking yourself into your sleeping bag.
You can add in some extra things like green superfood powder and cocoa powder to make it really chocolatey and satisfying. Here's a good recipe adapted from Mary Ellen's recipe to make it backpacker friendly.
Chocolate & Peanut Butter Overnight Oats
¾ cup rolled oats
1 tablespoon cocoa powder
1 tablespoon powdered peanut butter (here's one that is on Amazon)
1 tablespoon brown sugar
Pinch of salt
1 tablespoon chia seeds
½ teaspoon vanilla bean powder (check price on Amazon)
1 tablespoon powdered coconut milk (available from health food shops and Amazon)
As a general rule of thumb, you'll want to add the same quantity of water as oats, and a bit extra for the powders to absorb some, so in this case about a cup of water total. Obviously, if you like your oats more sloppy, then you can just add a little bit more, even the next morning just before you eat.
Variations:
Swap the cocoa powder for a teaspoon of spirulina or super green powder and the peanut butter for dried fruit.
Adjust the sugar to your liking.
Homemade Granola
(recipe adapted from the book "How It All Vegan" by Tanya Barnard & Sarah Kramer)
Ingredients:
185g/6oz rolled oats
75g/3oz sunflower seeds
50g/2oz chopped almonds
50g/2oz sesame seeds
40g/2oz linseeds
125ml/4 fl oz oil
1 tablespoon carob/cocoa powder (optional)
1 teaspoon cinnamon powder
50-100g/2-4 oz brown sugar
½ teaspoon salt
40g/1½ oz desiccated coconut
65g/2½ oz raisins
75g/3oz chopped dates
115g/4oz dried cranberries
Method
Preheat the oven to 180℃/350℉/gas mark 4 .
In a large bowl, mix together the oat flakes, nuts and seeds.
In a medium bowl whisk together the oil, carob powder, cinnamon, sugar and salt. Add this mixture to the large bowl and combine well.
Spread onto two baking sheets and bake for 12-15 minutes, until the top layer is browned. Turn it with a spatula, and bake for another 8-10 minutes. The mixture will be moist but will dry and harden as it cools. Mix in the dried fruits and let cool, stirring every 10 minutes to prevent clumping. Put 1 cup into each ziplock bag and shake with 1 tablespoon dried milk powder (can be plant-based). When you're ready to eat, just add water and mix thoroughly.
Tortilla Wrap with Banana/Peanut Butter/Jam
Okay, so the clue is in the title with this one (sorry to be cheeky!). Bring some wraps with you along with sachets of peanut butter and jam and spread liberally on the tortilla before eating. If you happen to have passed by a local shop where they sell bananas, then all the better. Go ahead, slice it in on top before rolling and eating!
Smoothie/Protein shake
I love smoothies! I love the ease of eating (drinking) and that powered up feeling that you get after having one. Well why not create a similar experience on the trail?
Simply mix your powders together in a bag before you go, and blend with water when you want to consume it. There are two ways of doing this to get a smooth result: either you can add a little liquid to the powders continuing to mix well while slowly add the rest of the water until you reach the desired consistency. Or you can take a shaker with you (one of the types that the protein powder brands sell with the little sieve inside) and add the powdered mix to the water and give it a good shake.
It's up to you, but personally, I would ditch the shaker and mix it with a spoon for a better result.
Here's a recipe that I frequently use:
1 scoop vegan banana and caramel protein powder (or other flavour of your choice)
1 tablespoon ground linseeds/flaxseeds
1 teaspoon greens powder (I use this one from Holland and Barrett)
1 tablespoon cocoa powder (optional, if you want a chocolate kick as I often do)
2-3 tablespoon coconut milk powder
If I'm at home then I'd chuck in some frozen berries and a banana, but for a protein boost or as an accompanying drink with your meal, I think this is great.
So, try them out and let me know what you think of them. Do you have any favourite variations or backpacking breakfasts that you'd like to share? Let us know in the comments below.
And don't forget to sign up to the blog to receive the latest posts straight to your inbox!