This article is for you if you are looking for resources on where to buy pre-prepared backpacking food in the UK. Of course, it isn't just for backpackers, but also bikepackers, and adventurists of all kinds.
At the end of the post, I will also cover some easy to find British supermarket options for lightweight hiking food which will help you keep the costs down, as the specialist meals can be pretty expensive if that's all you're going to eat.
Having a variety of options available to you will delight your palate. Looking forward to mealtimes and enjoying your food is a big part of good digestion, not to mention part of life's enjoyment. So take foods that you know you like, and if possible have previously tried to avoid disappointment.
If you're looking for more inspiration on camping meals, then check out my other blogs: Trail Food: How To Plan Healthy Backpacking Meals, How Much Food To Take Backpacking Per Day and What Is The Best Food To Bring Backpacking?
So without further ado, let's get started. This blog contains links to several online shops that deliver quickly in the UK. (All links are non-affiliate, except for the Amazon one ;))
Go Outdoors
Not just online, they have many stores throughout the UK, mainly in England. So if you're looking to pick up some last minute meals or gear this is a good place to go. They extensively stock gear for hiking, camping, biking and more.
As for the hiking food, the options are fairly limited, especially if you're vegetarian. But I can recommend the Vegetable Hotpot and Pasta ai Funghi from Trekmates Adventure Food. These are also among the most economical options. They also stock some ready to eat options from Wayfayrer as well as breakfast options from Summit to Eat, Firepot and others. Here's the link to their full outdoor food page:
Ultra Light Outdoor Gear
This online shop, based in the North-East of England, stocks multiple brands of dehydrated meals. They also have a multitude of other (lightweight) gear available. As well as familiar brands like Summit to Eat and Expedition Foods they stock powdered smoothies from LYO. Although these are a little on the expensive side, they really help to mix things up and get that all-important extra nutrition in.
Base Camp Food
Base Camp Food boasts on their website that they offer "the widest range of lightweight expedition meals in the UK, with free delivery on all orders."
I have yet to buy anything from them, but the free delivery is attractive. At first glance, they appear to be more expensive than other sites. However, for an extensive range of vegan and vegetarian meals, this may be the favourite place to go, unless you want to eat the same thing everyday from one of their cheaper competitors.
Decathlon
Decathlon is a well-known economical French outdoor brand, with shops all over Europe. In the UK they are mainly located around London with shops also in the midlands and northern England. If you're based East or West, however, then their online shop is the best bet for you. There aren't many options for freeze-dried meals, but what they do have is economical.
Summit to eat
To shop directly for Summit To Eat products here is their website:
Tentmeals
Tentmeals use mostly whole ingredients in their meals, such as nuts and dried fruit, which may be an acquired taste if you don't like fruit in your main meals. They are also very conscious about the environment and reduce the use of plastic to an absolute bare minimum, cutting down on extra weight from packaging too. I've yet to try their meals, but would like to as at the time of writing 100% of their meals are vegan or vegetarian. They also cost a lot less than some of their competitors.
Amazon:
Of course, it goes almost without saying that you can find most of the above food brands also available on amazon. If you want to check out the prices and compare the delivery times then this link will take you directly to the camping meals page. Just to give you the heads up this is my affiliate link, so I may earn a few pence if you buy something from Amazon after you click on it. It won't cost you anything extra though 😉
Supermarket Options
Now that you're aware of the upper end of the freeze-dried food market, I want to give you a few options that are readily available from British supermarkets. Adding a few of these can boost your calorie intake, add variety and add some tasty treats for desserts and snacks.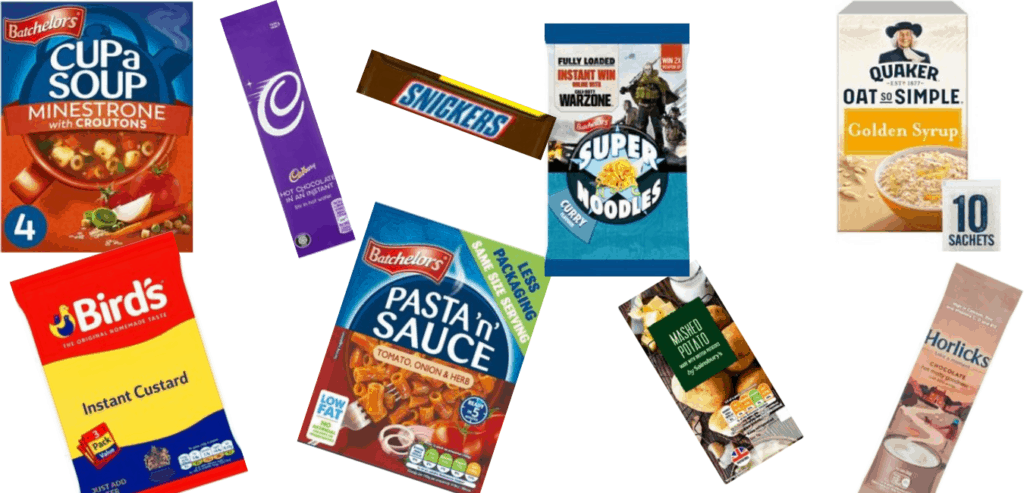 Cup-a-soups
Instant mashed potato packets
Noodle packets
Custard powder packets
Chocolate bars
Nuts
Dried Fruit
Pitas/Tortillas
Snack bars
Chocolate bars
Porridge packs
Horlicks/Hot chocolate sachets
Coffee sachets
Rice and pasta meals
Crackers
Individual cheeses/olive oil/vinegar etc
Hopefully that gives you some ideas of what's available in your average, large British supermarket. Of course, there are new items coming out all the time, so keep your eyes peeled for other yummy extras when you're out and about.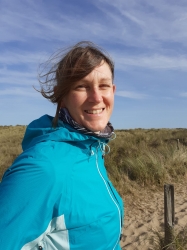 Latest posts by Karen Branscombe
(see all)