14 miles/22 km, easy, OS landranger map 132
This walk is the first one in my new hiking series that I will be posting once a month on my blog, so look out for future ones. They will mainly be around Norfolk, UK, which is where I live, and because I don't have a car I will be adding information about the public transport options available in getting to and from the start and finish. After all, why should people who care about the environment enough to live without a car be denied the opportunity to go to beautiful remote places?
I have been wanting to do this walk since last summer when I did the rest of the Norfolk Coastal Path from Cromer to Burnham Deepdale, so it was the missing piece for me that I had to go back and complete! It was a little longer than I originally thought when I roughly measured it on the map, to me, it looked to me as if it would be about 9 miles! Hahaha, it's a common theme when I go walking to accidentally underestimate the distance, or get lost and end up having to track back to where I should be on the path. Not unlike life really is it? Hopefully, it will be just me getting lost so that you don't have to. However, today I didn't have to turn back at all luckily. This route is easy to navigate and clearly signposted.
I track my routes using the Strava app. I like to know how far I've been and the average speed I've done and then look back later in the year to see all the walks I did. It also lets me add photos that I take on route to show my friends. So if you're also on Strava feel free to follow me by clicking here.
We were blessed with slightly cloudy August weather with about 24ºC and light winds, which was perfect for walking this route. Some parts of it are fairly exposed which would make it important to come equipped for any weather at other times of the year. It is notorious for being windy as well, so bringing a buff with you for your ears could save you from being driven mad while you're getting the miles in.
How to get there
Car: The easiest way, of course, is to go by car and park in the cliff car park near the lighthouse in Hunstanton. There are toilets here too which makes it handy if it's been a long drive.
Bus: There is also a bus stop by the lighthouse, where the coast hopper bus stops that comes from Wells and connects with a bus from Cromer and Sheringham where you can easily get to by catching a train from Norwich. Be warned! It will take you about 3 hours to get to Hunstanton using public transport from Norwich and cost you about £15 each way!! I have done this in the past. If you're doing this then you might want to turn it into a multi-day hiking trip and complete the Norfolk Coastal path to arrive back at Cromer where you can easily get back to Norwich again.
Let's go!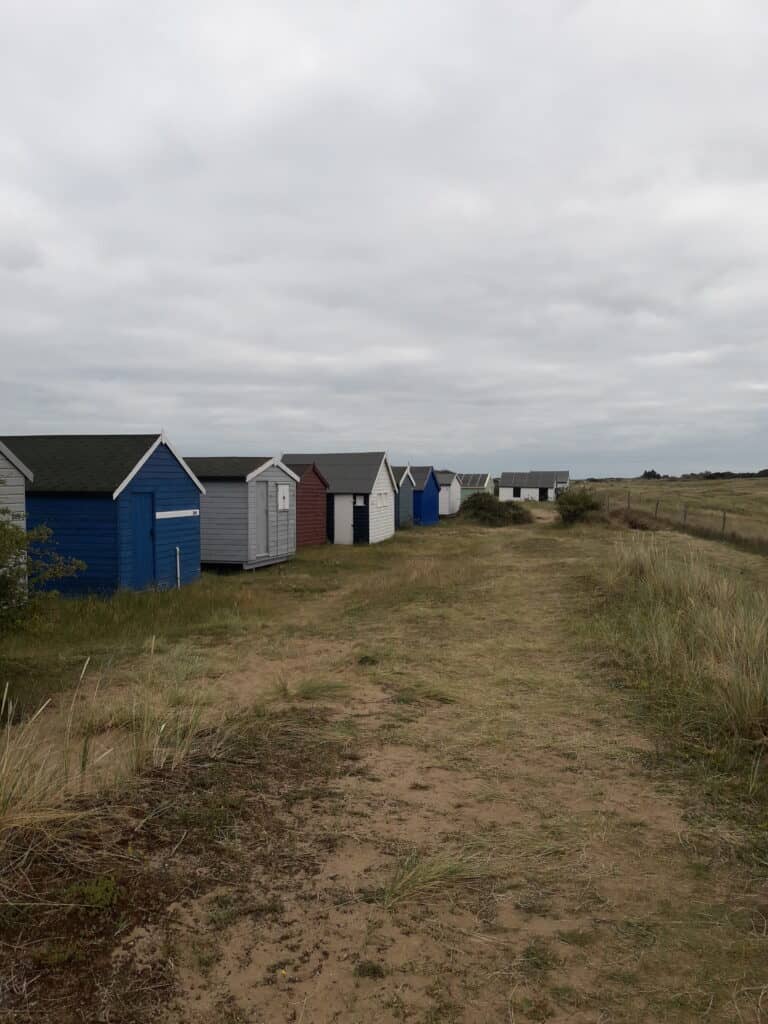 Once in the car park by the lighthouse, head down the hill towards the trees and the beach entrance in the left-hand corner. You will see the first acorn sign to follow. It forks almost immediately right going upwards away from the beach path giving you a view over the beach guiding you with another acorn sign.
The path is sandy, so makes for heavy walking to begin with and meanders through the dunes behind the beach huts and is well signposted.
Although this route does not give you sea views it is also possible to choose an alternative path higher up on top of the dunes which later on joins up with the signposted route. The walking is firmer on the lower path and sandy on the higher path – so you can choose between the view and easy walking on this section.
Turn right by the lifeboat shed and then sharp left at the top of the lane.
The path becomes firmer and gravelled past the golf clubhouse and continues on beside the little River Hun. Go past the caravans and turn left at the bridge, which comes out at where the Norfolk Coastal Path and the Peddars Way meet.
Holme Dunes and Observatory
Holme Dunes is managed by the Norfolk Wildlife Trust and Holme Bird Observatory is cared for by the Norfolk Ornithologists Association. The Bird Observatory is a 7 acre (2.8 hectare) area of pines, scrub and grassland. There's a warden, hides and a nature trail and at time of writing costs £3.00 entry fee per person.
There are long boardwalks now underfoot and they go through the Holme Dunes reserve which covers a huge area between Holme and Thornham. If you're keen on birdwatching this area is thriving in winter with enormous flocks of shore waders and brent geese, and autumn is ideal for catching views of waders such as greenshank, green sandpiper, passerines and sea birds.
At low tide, it is also possible to walk on the beach on this section. However, it was high tide for us, so we stayed on the waymarked path this time.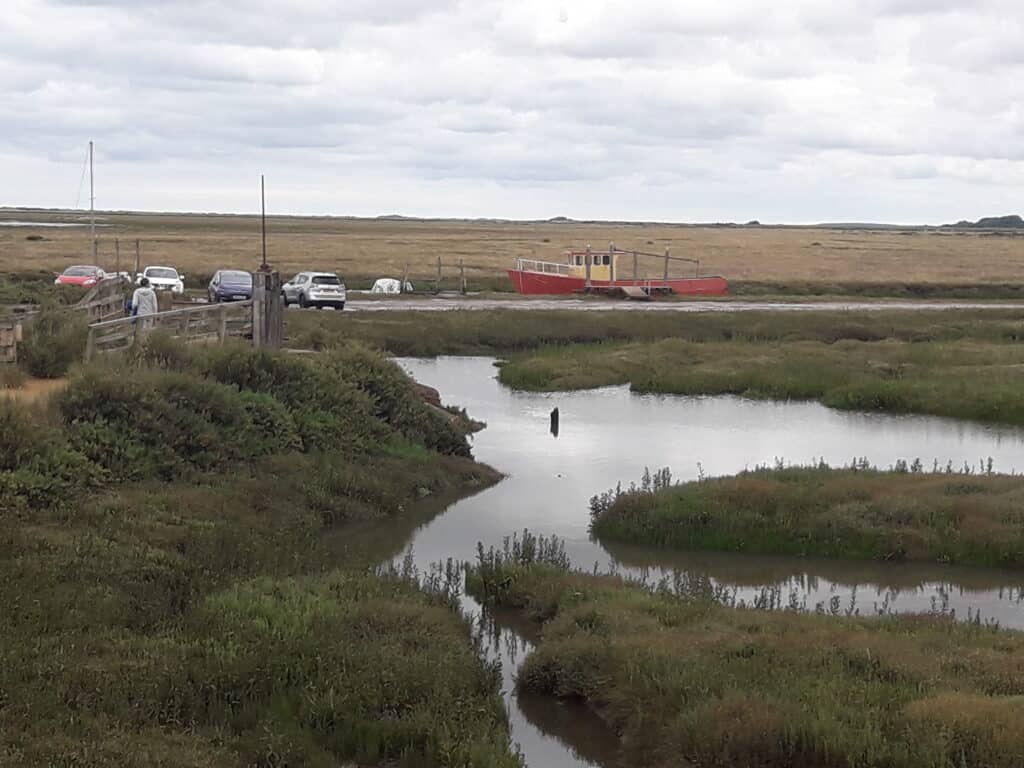 On arrival at Thornham we were treated to a pretty view of the small boats in the channel where we had to deviate off route for a small section as one of the footpaths had been made one way as it was very narrow. It was very easy to just follow the lane round which led us past The Lifeboat Inn for a convenient pause in the journey.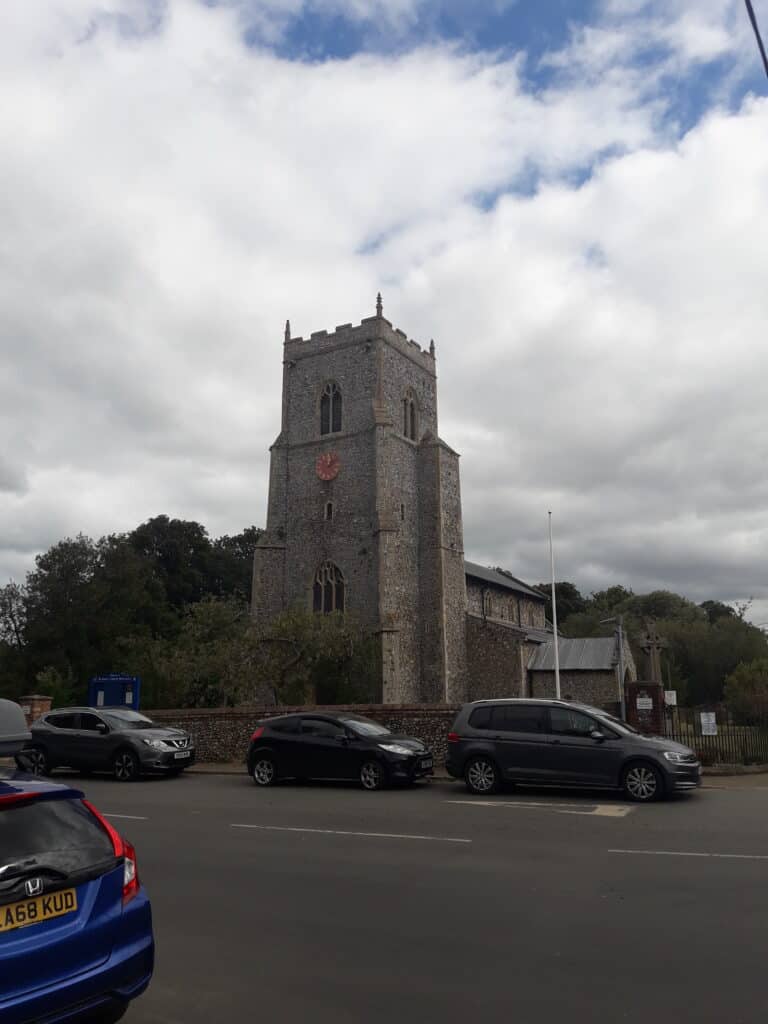 The official path now takes you on a detour inland, to avoid the busy coastal road, and after following a gentle uphill lane for a mile or so then cuts across the fields left along grassy paths before cutting back in on a country path towards the coast coming out in Brancaster where you need to cross over the main road by St Mary's church.
We were tempted to walk to the sea for a lunch stop but decided against it in the end as it would have added another couple of miles to the hike which we felt would have taken too much time out of the day. The only resting spots that we saw though were next to the main road which was quite busy, so we pressed on.
Look for the acorn signs taking you on a path turning right off the beach road to follow onto a boardwalk through the marsh north of the village which was quite nettley in places. There are lots of blackberry bushes dotted along this section though, so if you go at the right time of year (late August) there are snacks to be had!
There is a lot of wildlife to be seen here if you keep your eyes peeled and we caught sight of a toad and a newt crossing the path.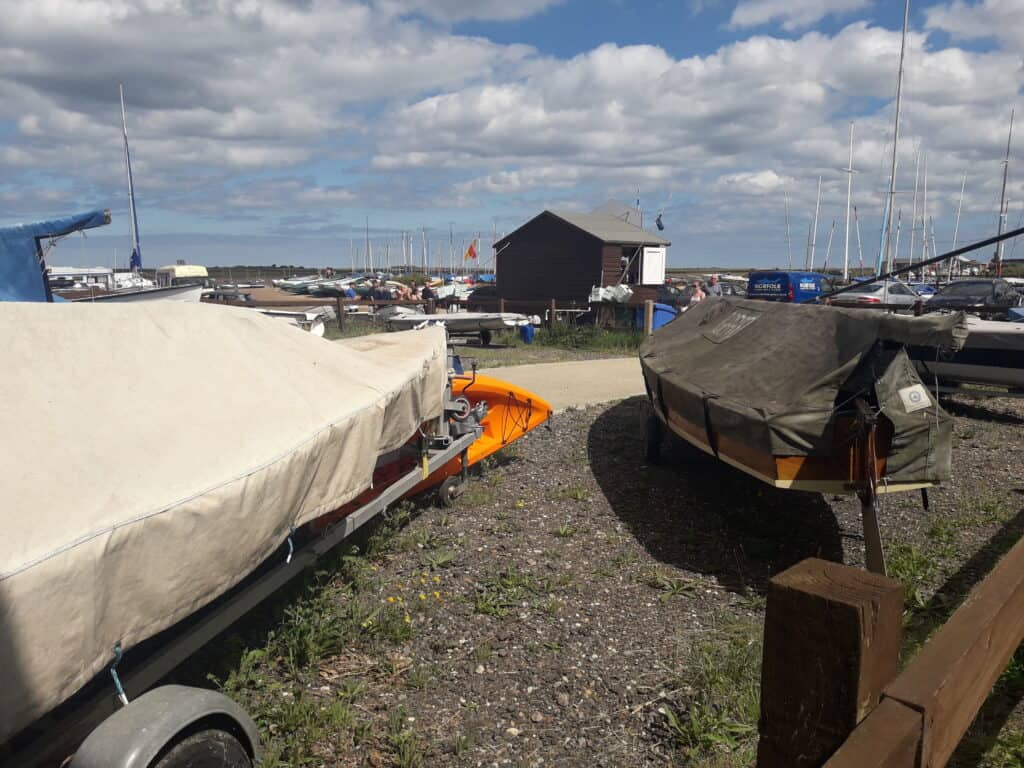 The path continues behind some houses and enters the yacht club at Brancaster Staithe for a pleasant ice cream stop in the harbour.
I found this section of the walk to be really beautiful, the tide was reasonably far out when we passed through, but you could see where the water had been and the sun even came out for us for a while!
The path is easy to spot through Brancaster Staithe and there are a couple of options for getting a drink too if you walk to the main road.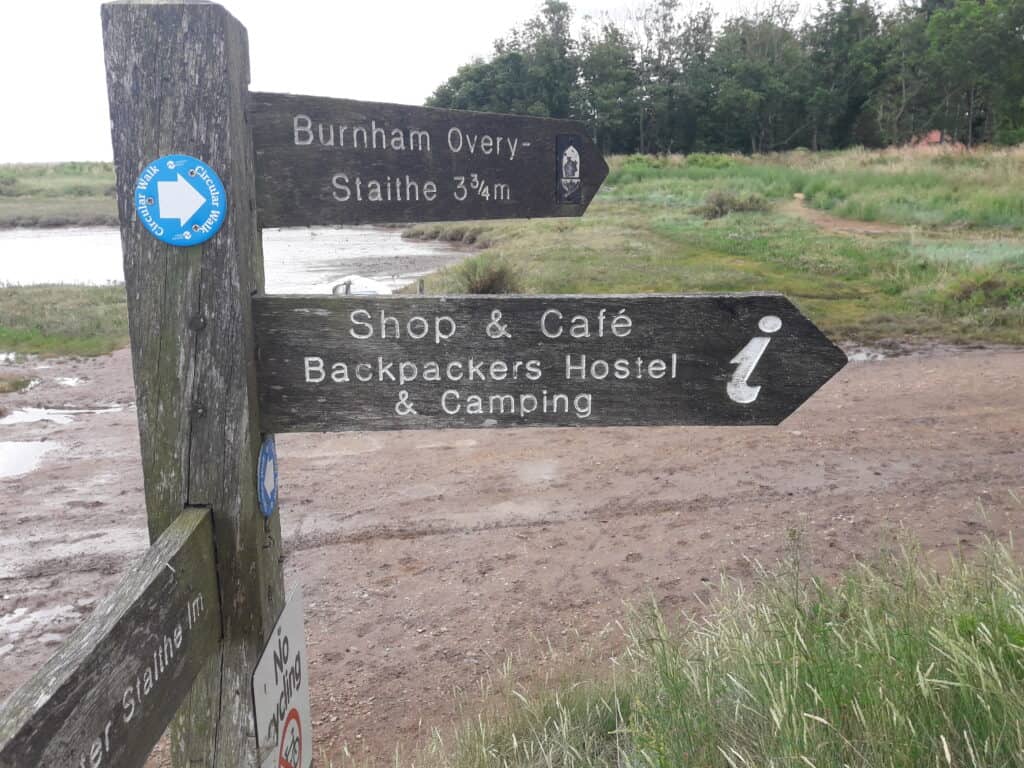 The last section towards Burnham Deepdale was a really pleasant path leading round with views across the mudflats and marshes.
At Burnham Deepdale head towards the main road to finish the hike where the backpacker's hostel and campsite is signposted and there is a shop and café just next to the coast hopper bus stop to get you back to Hunstanton to your car at the lighthouse or you can wait at the stop by the church to go to Wells which links with the bus to Cromer to catch the train back to Norwich.
If you'd like to watch my short YouTube video of this walk then please click on the video below: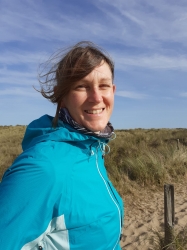 Latest posts by Karen Branscombe
(see all)