The Boudicca Way is a waymarked long distance national trail that runs between Norwich and Diss in Norfolk. It covers 36 miles/58 km through the Norfolk countryside following close to Roman roads.
It is named after the Queen of the Iceni, a legendary Warrior whose battlefields were in this area. The official route includes a detour to the village of Caister-St-Edmund where the remains of the largest Roman town in East Anglia also known as Venta Icenorum can be found.
The terrain is relatively easy, as you would expect, Norfolk not having mountains.
I followed this trail in July 2019 with a colleague, completing it in two days and wild camping at around the halfway point just past Tasburgh. It fitted nicely into my days off in my work schedule.
It is perfectly possible to day hike this walk and base yourself in Norwich. Buses from Norwich to and from the villages are quite easy to find at most villages en route, and timetables are online and pinned to the bus stops in many places.
---
Walk Statistics
Norwich to Diss = 36 miles/58 km
Terrain: easy
Ascent: 484 metres
Descent: 458 metres
Access: Starts and finishes at Norwich and Diss railway stations which are both on the Norwich to London Liverpool Street line.
Food & Drink: There are many pubs dotted on the route as well as small shops and supermarkets. However, please check online before you leave to find out which ones are currently open for business.
Accommodation: A search online revealed that The Old Bakery in Pulham Market has good reviews and is directly on the route.
Transport: If you want to day hike and break up the walk into manageable sections the First Bus website is a good place to find out which buses are available to take you back to Norwich or other places in the surrounding area. You can easily check and book trains at thetrainline.com.
---
Getting Out Of Norwich
After getting the bus to Norwich Railway Station we followed alongside the River Wensum. We walked past the Riverside Entertainment Complex and joined the A147 at Carrow Bridge. A gentle uphill slope took us to Bracondale where we turned left and went down to the Trowse roundabout.
At the roundabout we headed straight towards Trowse walking past the old Colman's Mustard site. It was bought out by Unilever in 1995 and sadly closed it's doors in 2019 after 160 years of production.
I was relieved to be away from this busy road to be honest. It's a shame that there wasn't a way to follow a footpath by the river to avoid the car fumes.
To greet us to the countryside a field of cows gazed at us upon entering Trowse.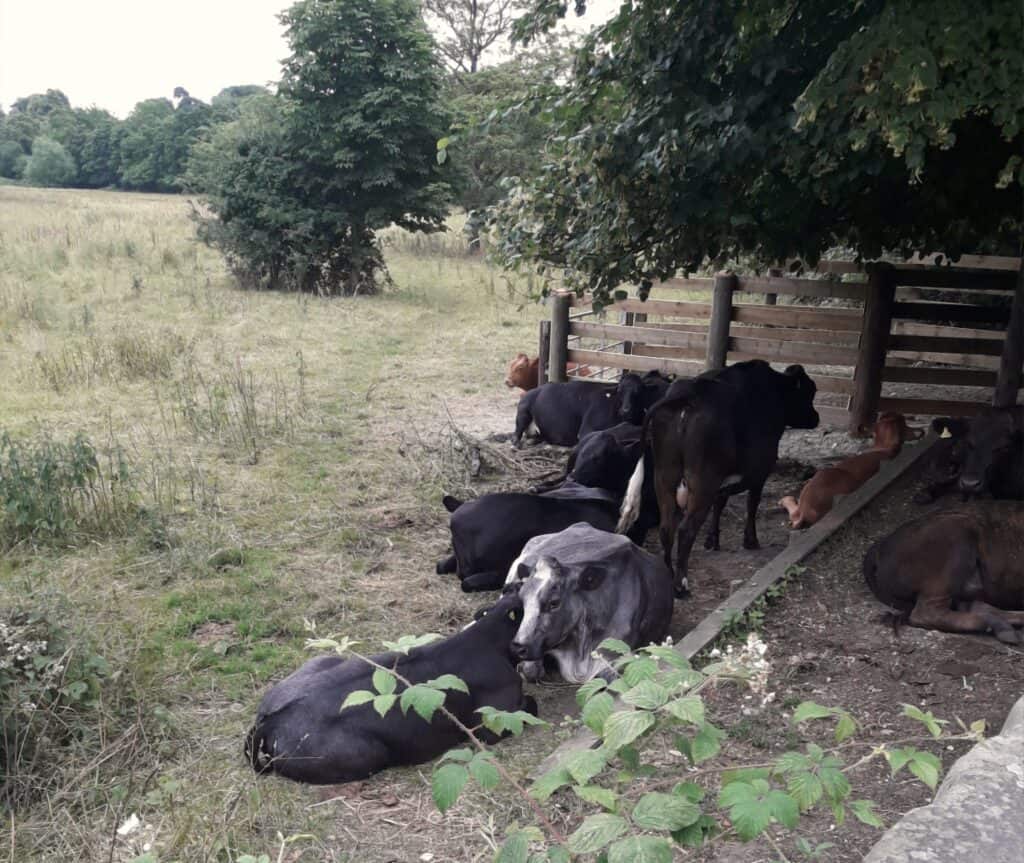 Trowse
If you're in need of refreshments there is a small shop, two pubs and a cafe in Trowse to sort you out 😉
The Boudicca Way path now separates itself from the Wherryman's Way. It heads across the children's playfield to join the road on the other corner. I think we missed a path around the back of the church which made it more obvious where to go. We realised this as we got tangled up with a large elderly walking group in the field that seemed to come from there. We couldn't seem to get by easily because of traffic on the quiet (but not at that time) country road.
After a short stint on the road we found a footpath veering right near the electricity pylons. From here on the signage was better.
Crossing over the Southern Bypass wasn't very pleasant. There wasn't any path for pedestrians on the busy Stoke Road and I felt quite vulnerable. At last, we went left onto Arminghall Lane and a sign through the hedge took us into the fields.
Chalk Mines
The next section made us wish we'd brought a sythe with us. The brambles were so big they covered the path entirely for a lot of sections and ended up scratching our legs and arms as we fought our way through. We were having a real adventure in the Norfolk jungle!
I'm hoping that the path will be better maintained in the future.
Passing by the chalk mines we were afforded better views and it was obvious where we had to go even though the path was rather overgrown. A bit of imaginative walking on the edge of fields was in order.
At around mid-morning we left the bramble section and found ourselves in a pretty woodland where we stopped for a quick drink and snack.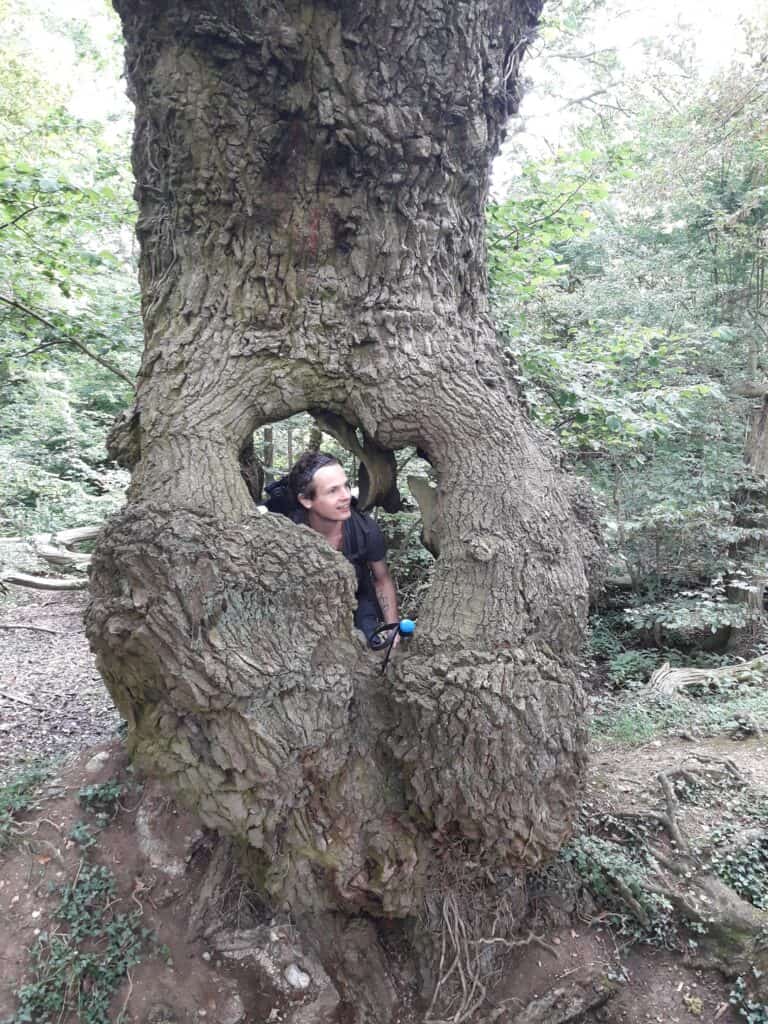 Venta Icenorum Roman Town
After lots of umming and erring, we finally decided to add the extra mileage and take the detour to check out the Roman Town. Neither of us were expecting it to be quite so flat and fieldlike I think. We still walked around the footpath loop admiring the old Roman wall and some sheep that were grazing there. Then settled close to the church for lunch.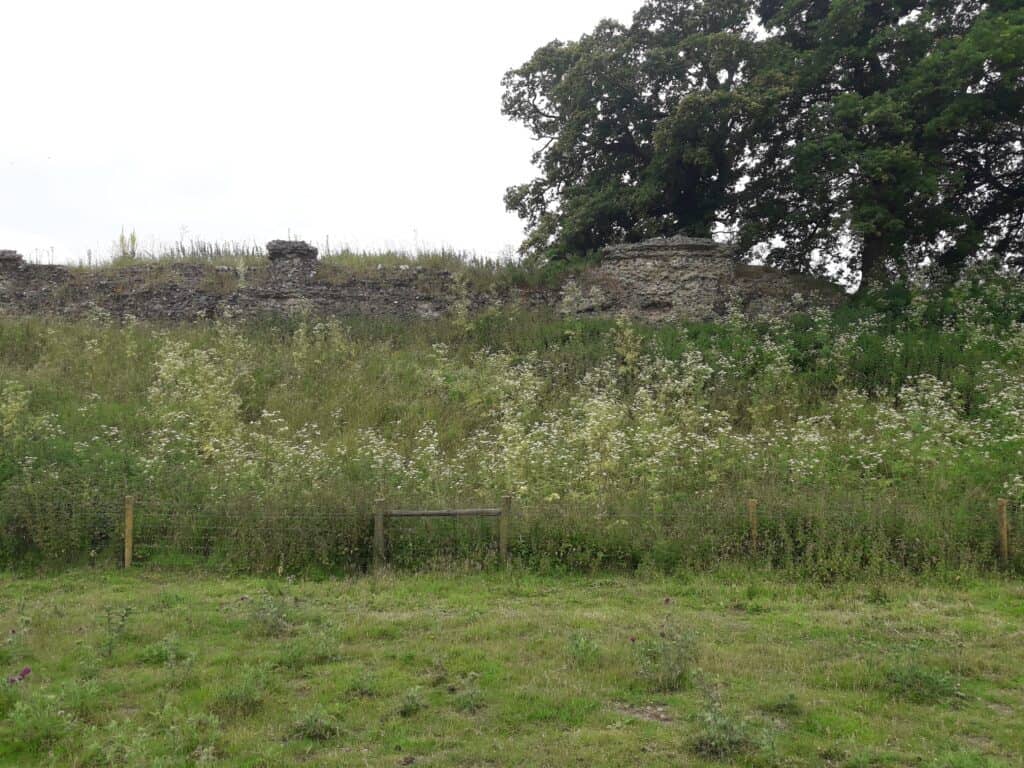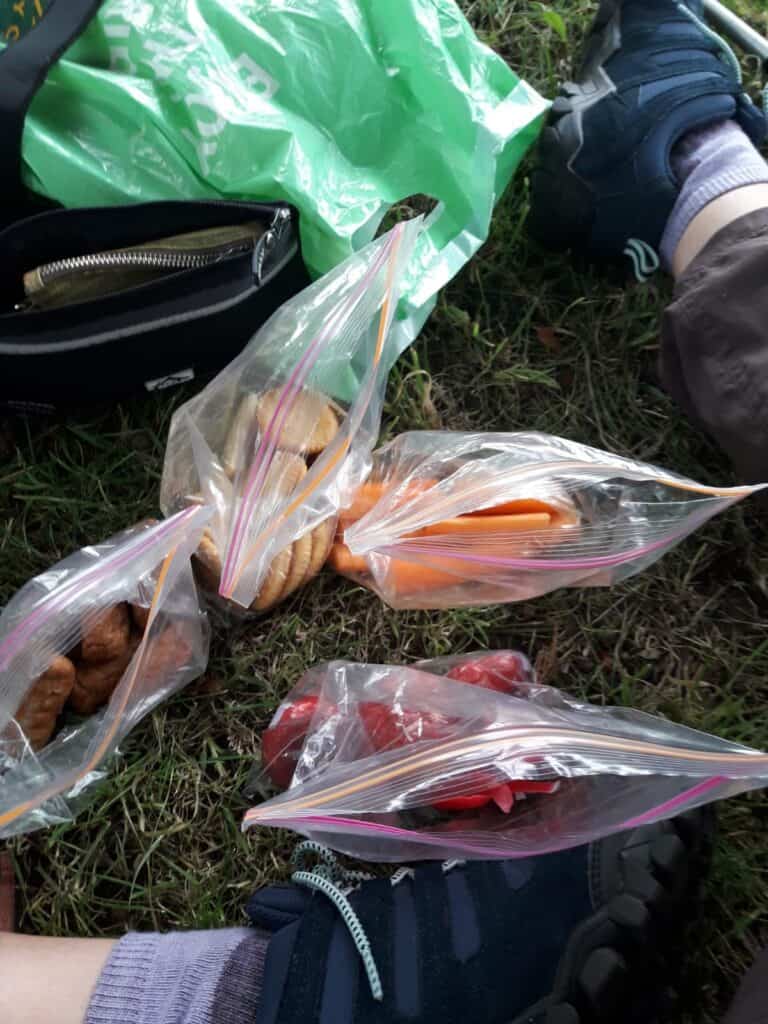 Abbot's Farm and Shotesham
This section mainly followed small roads leading us through Stoke and to the west of West Poringland. You can clearly see the radio towers from here with the red lights on top. These towers always make me feel at home. I went to Framingham Earl High School which is close by and have friends who lived at the foot of the towers.
At Abbot's Farm there was a clear sign leading us along a lane and then a path, through to the back of Shotesham. The path came out right next to The Globe Pub, so it seemed fit to stop and get a drink and talk to the locals. They kindly topped us up with water too. It was hot weather and we had already used up more than half of our 2 litres each.
Leading us out of Shotesham the path was very picturesque, going through woodland areas with dappled sunshine.
We started to think about where we wanted to stop for the night. I originally thought that near Tasburgh would be good, being as it was about halfway. But this side or the other side? We knew that Tasburgh itself would be too built up and therefore a challenge for wild camping.
After some consideration, we both thought that we should aim for the other side of the town. We had plenty of daylight left as it was July and preferred to have a slightly shorter second day if possible.
Saxlingham Nethergate and Tasburgh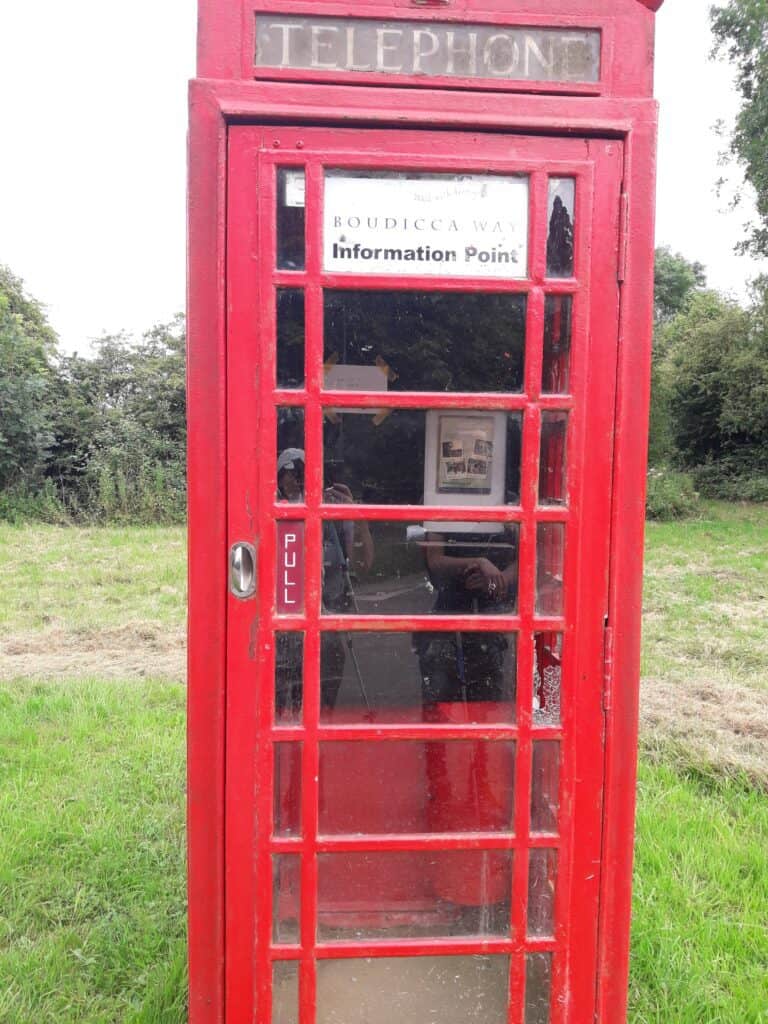 Saxlingham Nethergate was a treat to walk through. First we saw this telephone box which had no phone, but was an ode to the Boudicca Way. Later we came across this gorgeous ruin of a church which we both thought would have made an amazing wild camping spot.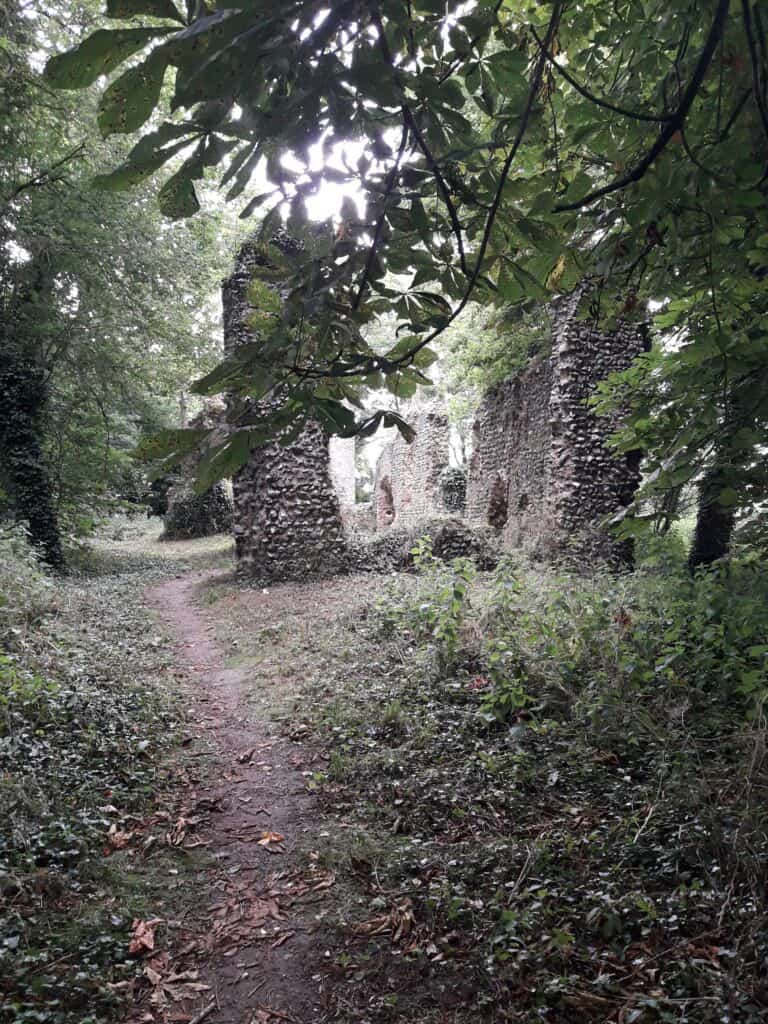 We pushed on though, making a mental note of where to find it again.
The area before Tasburgh was horse country. It was a lot more open than the previous trails and lanes.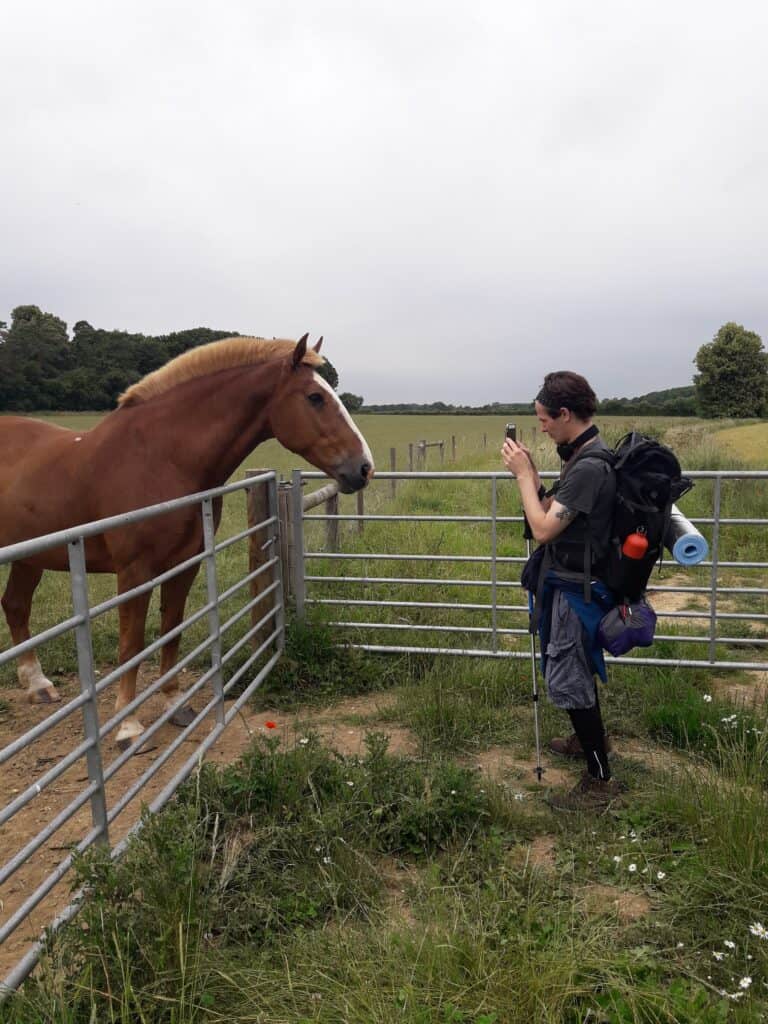 My feet and hips were beginning to suffer by now. I had my first blister and was starting to get quite slow, feeling that I was unable to maintain my pace. It wasn't helped by the fact that my rucksack didn't seem to be sitting correctly on my back and was rather uncomfortable.
We stopped for a rest and an electolyte tablet by a huge oak tree just before reaching Tasburgh.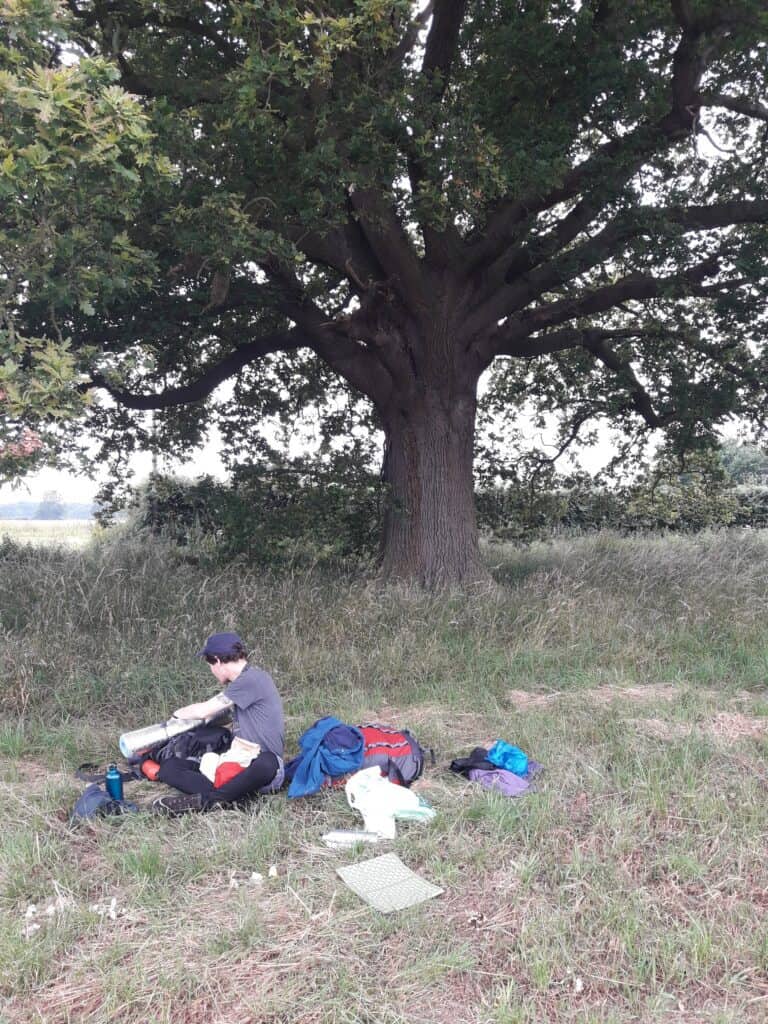 Having crossed the busy A140 we made our way through Tasburgh keeping our eyes peeled for places to camp. We finally found an empty field after crossing the A140 for the second time.
I settled into my Vango Nevis 100 tent after a rehydrated veggie curry meal and listened to the local owl and rabbits munching grass around me.
First Time Wild Camping
It was the very first experience of wild camping for both myself and my fellow walker. It was one of the reasons that we went together instead of trying it out solo.
I realised later that there are certain things that you need to do differently when wild camping. One of those things is water.
We were both surprised just how much water we had used making dinner, breakfast and having a couple of cups of tea. So in the morning after eating neither of us had any water left to drink on the way.
Unfortunately, we hadn't checked where we could fill up with water before coming out. Personally, I thought it would be easy to fill up at petrol stations, pubs and cafes on the way. And besides, I had brought my new gadget with me: the Sawyer Mini Water Filtration System.
Shortly after setting off at around 7 in the morning, we both started worrying about the lack of water. Unless we turned back to Tasburgh we were roughly 6 miles from the nearest possible water source.
We decided to press on, as it wasn't burning hot, and before long found a clear running stream. I got out my filter and topped up our water bottles for us, drinking around a litre straight off. Thank goodness!
Tasburgh to Pulham Market
This is debatably the most beautiful section of the walk. The route passes through Tyrrels Wood at TM 20459 90419 in between OS Landranger Map Numbers 134 and 156.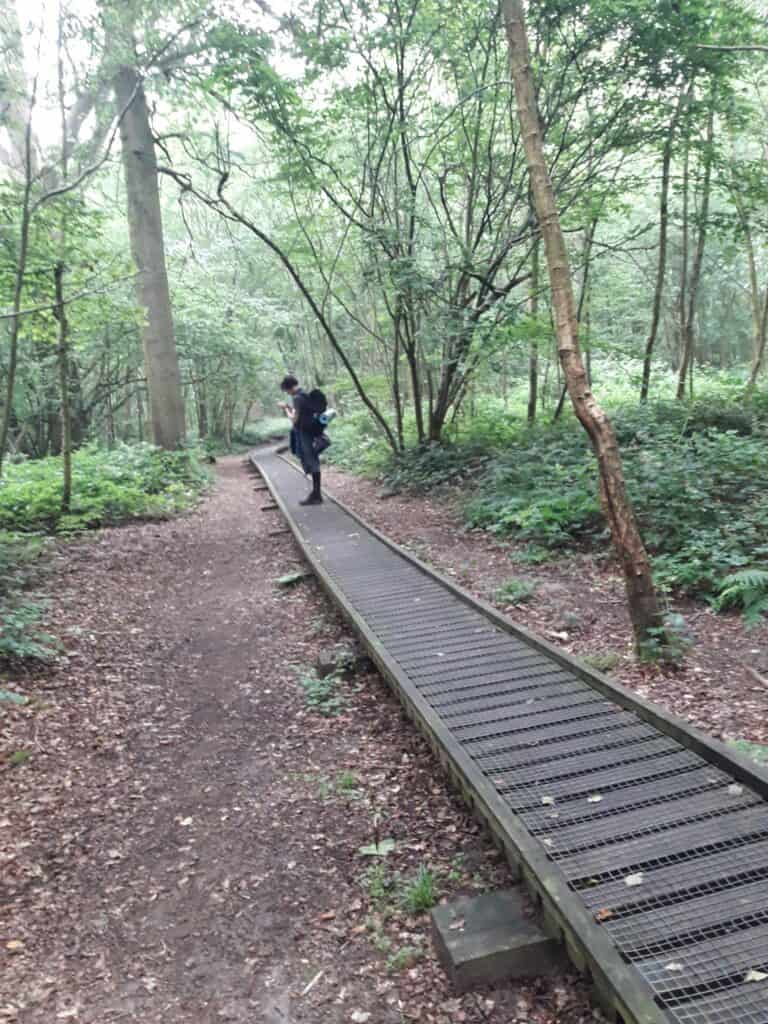 .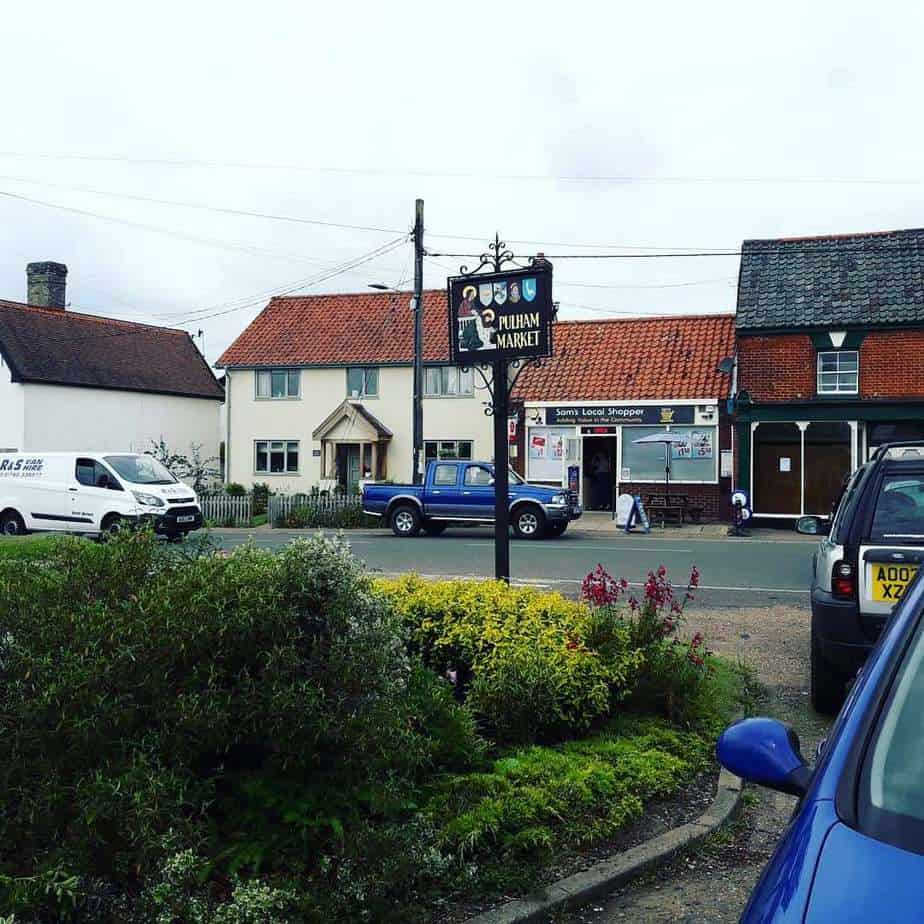 Leaving the wood, the trails settled into some field walking, even passing through a field of fresh parsley which smelt great. There were many fields of some strange dried plant, which I later found out was Rapeseed left to mature for the seeds.
We were both exhausted when we finally arrived at Pulham Market.
I had several blisters, and my companion had endured walking with wet feet as his boots had finally given up being waterproof.
Walking into The Crown Pub felt amazing. We both ordered veggie burgers and coffee and took time to replenish our energy before setting off again feeling renewed.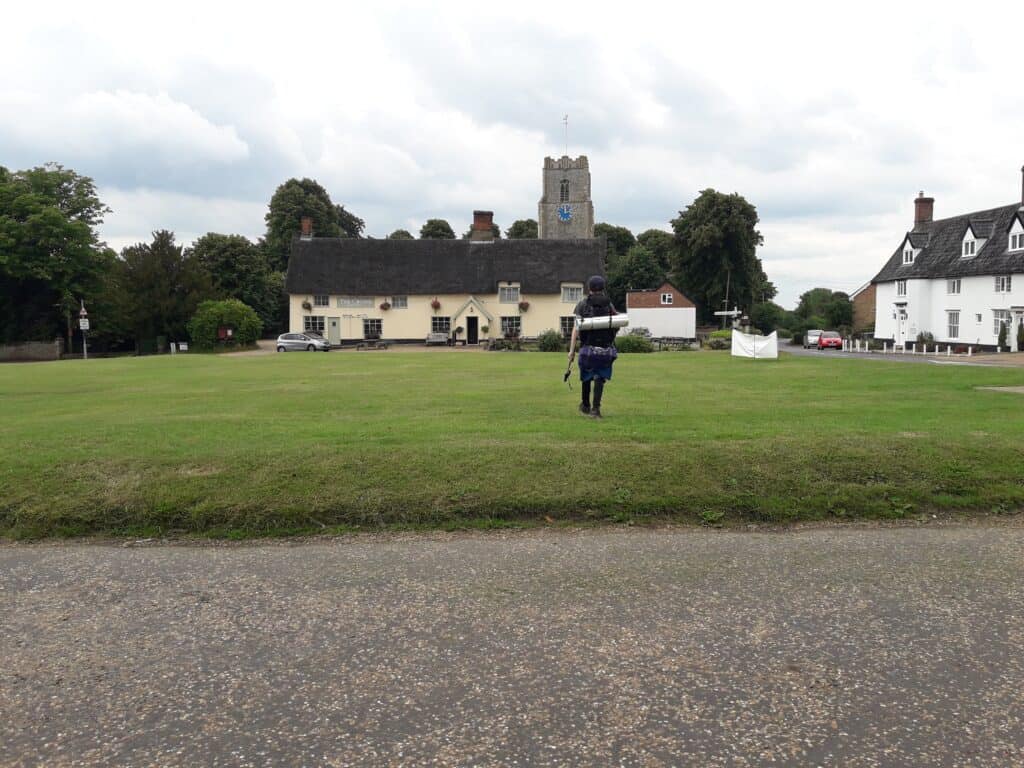 Pulham Market to Diss
Again we crossed the A140, and continued through farmland. Several of the fields had Beware of the Bull signs, which made me slightly nervous as I had a red rucksack. However, there wasn't a bull in sight in any of them.
The next village to walk through was Shimpling. It was a very calm and peaceful village with not a lot going on.
I was starting to realise now that it may have been a little ambitious to do two days of nearly 20 miles a day. My fitness level wasn't really ready for such big mileage. (Or was it the effects of the poisoned water that we'd drunk earlier in the day?…hmmm)
The way to get through it, I thought, was to stop and rest regularly, having a small snack and some sips of fluid.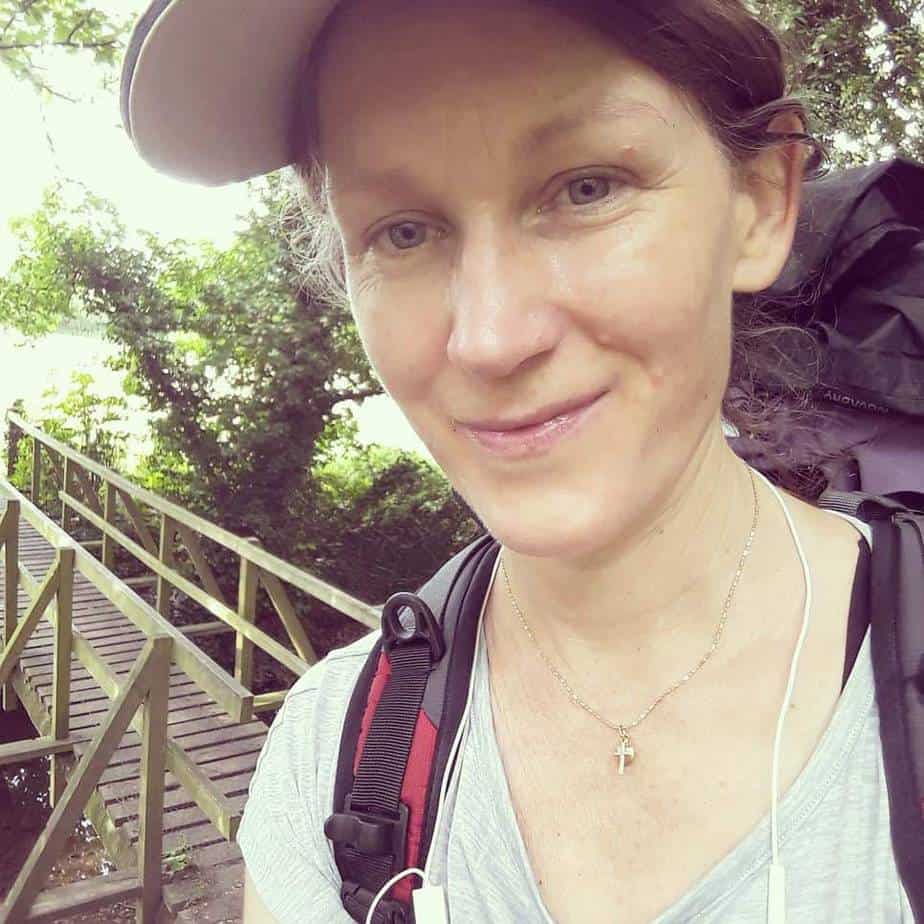 It seemed to work, and the miles gradually ticked off until finally we made it into Diss. The last part followed a stretch of the River Waveney which was pretty. Diss railway station was easy to find and in no time at all we were back in Norwich and heading home to shower and rest.
Thanks for visiting. If you enjoyed reading this post please consider sharing it with your friends.