Join me as I recount and remember my first ever long distance solo hiking adventure crossing the Tramuntana Mountain Range Mallorca GR221 route in January 2018.
Walking this route had been a dream of mine for a few years when I was living in Mallorca.
So finally I am at the end of my Mallorca GR221 adventure. There are mixed feelings for me finishing this walk. One part of me never wanted to go back to normal life, and the other was craving rest.
To catch up on all the previous days you can click on the buttons below:
Monday 22 January 2018
A Beautiful Morning
I woke up early. It was so very very quiet in the hostel that I felt really refreshed. We had gone to bed early after dinner too which made all the difference.
The morning looked beautiful and clear outside. I organised myself in a relaxed way and went down to eat a nice but simple breakfast of bread and jam.
06:40 Day 6 Mallorca Adventure (last day 😕)
Lluc to Pollensa 15km, estimated walking time 5 hrs. Weather 16°c with moderate wind. I have mixed feelings about today. On one hand my body needs a break from all the walking, but on the other hand I am reluctant (never want) to go back to the city, although of course am happy to see F again, and eat my own food.


Happily today I end on a high note as Steffi will join me to keep me company and help me to finish my large quantity of remaining snacks (over-prepared as usual!). I'm happy to have the company before going home to mend my semi suffering body.
I have learnt so much about myself – what I really need and what I definitely don't need and had a lot of time to reflect on what I want to do in my life (and what I don't want to do), it's been an incredible experience, and has definitely given me the bug to do other long distance hikes in the future.
I will post some pictures of the day later when home.
A Nice Surprise
My German friend Steffi had contacted me telling me that she would join me for today's walk.
She arranged for her partner to drop her off at Son Amer nice and early to begin the walk with me. This meant that we should arrive in Pollensa at around lunchtime, and could therefore easily arrange transport back home.
We both had some snacks – my endless bag of mixed nuts were still going – and I brought a flask of hot water (as always).
It was a real pleasure to walk with Steffi. She even offered to carry my rucksack for some of the way! So we did a swap and I carried her much smaller day pack for a bit which my feet and hips absolutely loved.
Easy to Follow
This section of the route was very easy to follow, with clear signposts to guide us. Here's the profile:
Profile
Time: 6 h Height: ↑ 250 m, ↓ 700 m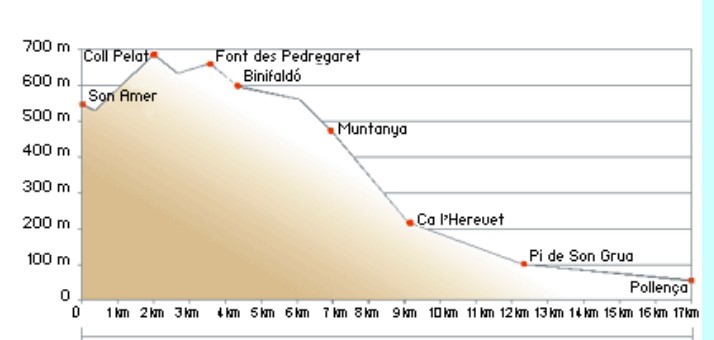 As you can see it is a much easier stage as we come back down to sea level. The majority of the climbing is close to the start, just after leaving the refugio.
Son Amer refugio is located in a wood, and so the beginning part was following the short woodland path downhill and back to the road.
Crossing over the road, we picked up a track which meandered across the landscape towards Binifaldó. The views opened out giving us some breathtaking sights to enjoy.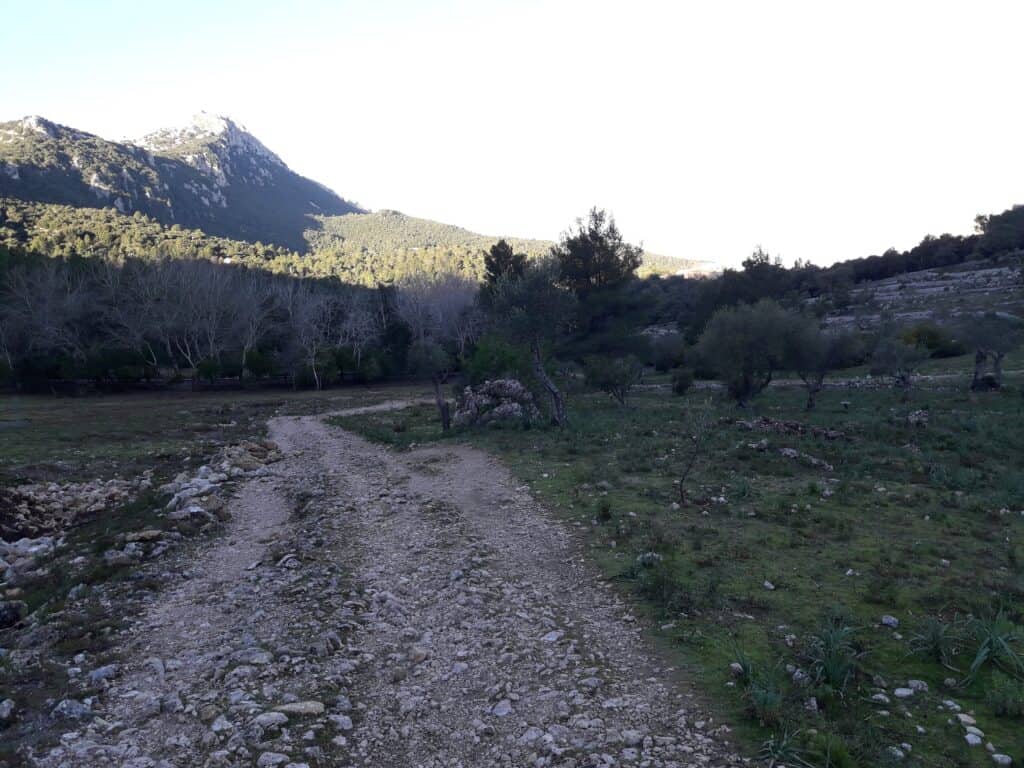 Downhill From Now On
The route soon started to steadily descend, and there was a noticeable difference in the temperature of the air. I finally started to heat up and had to take my hat off.
A Low Tolerance to the Cold
It does seem sometimes that I'm overdressed compared to other people while I'm walking. The truth, however, is that I often feel very chilly and don't tolerate the cold well.
Since moving back to England I have been trying to aclimatise to the fresher temperatures, but it is still a work in progress I'm afraid.
Peaceful Scenery
The scenery going down was very tranquil, and there weren't so many people around either, being as it was now Monday.
We ambled down the tracks and paths whilst chatting and catching up with each other.
I could feel that I was walking an awful lot slower than I usually do on fresh legs. It seemed to take us a long time to get to Pollensa. My body was really tired, and I frequently had to keep stopping to rest.
The Last Section
Once we came out of the wooded area, we had to follow the footpath beside the main road for the last few kilometres. I guess it was gradually preparing me for civilisation again, after spending all day in the mountains, which felt so remote from people.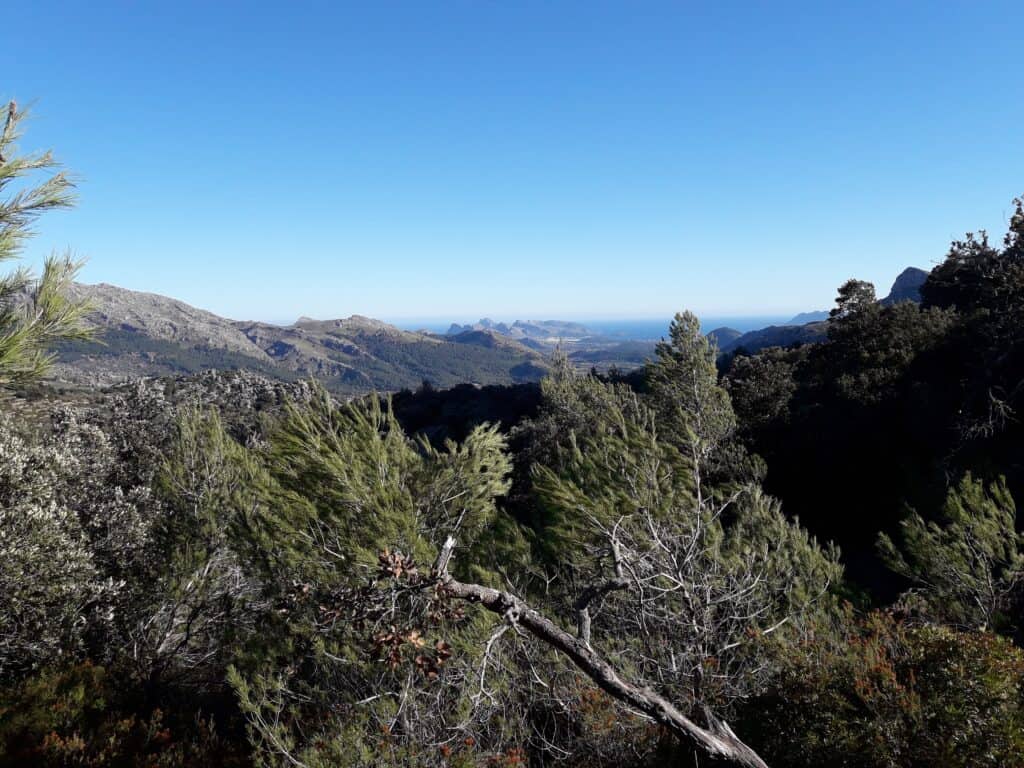 14:20 Arrived 😁😃 in Pollensa at a restaurant to get lunch and celebrate arrival and success.
We Made It!
The last bit near the road seemed to take ages, but we eventually came into Pollensa town and reached the hostel where I could have stayed for the final night.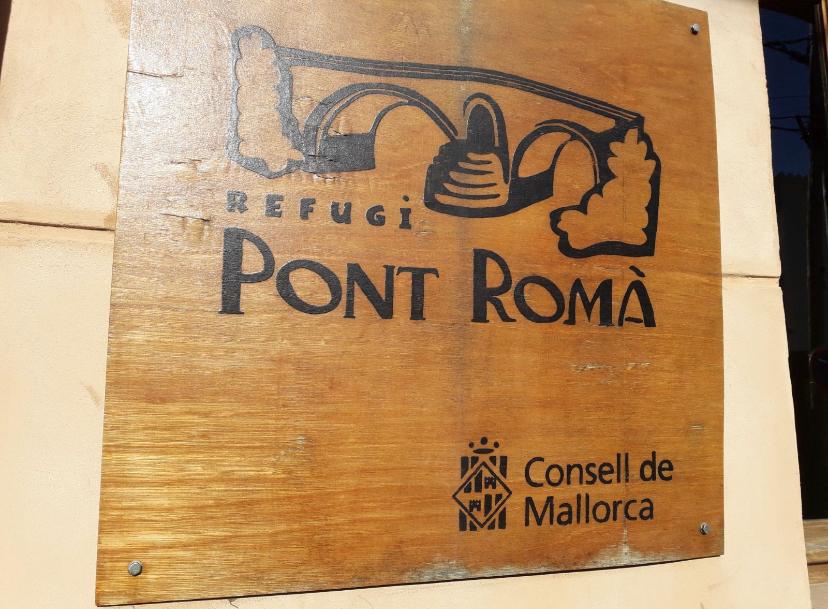 16:53 It helped that Steffi carried my bag on the last bit. Just walked in the door, home again. Need to wash everything!!!
Thanks for reading my Mallorca adventure and for visiting my blog. If you would like to hear more from me then dont forget to subscribe to my blog by clicking here.