Join me as I recount and remember my first ever long distance solo hiking adventure crossing the Tramuntana Mountain Range in Mallorca in January 2018.
Walking this route had been a dream of mine for a few years when I was living in Mallorca.
The Opportunity
The opportunity to do it finally presented itself at the end of 2017 when the hotel I was working in as breakfast chef at the time announced that it was closing for a month for refurbishments starting in January 2018 and gave all the regular staff a paid break. Can't argue with that!
Planning The Trip
So I got myself a book on the GR221 route and started planning my trip.
The route follows the mountain range that runs from the south west corner of the island at Port d'Andratx to the north at Pollenca.
Mountain Hostels
Almost the entire route is broken up into sections with refugis/refugios (mountain hostels in Mallorquian/Spanish) breaking up the trip. These are an amazing service provided by the local authorities in Mallorca.
They provide clean beds (you rent sheets or bring a sleeping bag), hot meals, and you can even order a picnic lunch to take with you on your hike the next day.
It's possible to book everything online by following this link, however, if you have special dietary requirements (gluten-free, vegan) I recommend you contact each place individually to confirm your preferences.
My Itinerary
Day 1: From Banyalbufar to Esporles – 2.5 hours, 8km 350m ascent, 290m descent
Planning Where To Start
I really wanted to do the entire route, but unfortunately, it became obvious to me that I would be unable to do the first part of the route starting in Andratx. The building work on the first two hostels was still incomplete and they were basically closed except for special circumstances.
I didn't own a tent or a bivvy bag and wasn't going to buy one at that time, so I decided to begin my adventure in a place called Banyalbufar, which is a pretty seaside village on the west coast of the island. It would also be a good plan to begin in Estellencs on the first day, which would give you a longer walk.
What To Bring
I really had no idea what to bring with me, and back then I hadn't watched a ton of hiking youtube videos to get ideas on how to keep my weight down, so I brought everything and the kitchen sink with me!!
It's really quite laughable now, but my rucksack was 12.5kg at the beginning including snacks and water. You might think that sounds alright, but consider this, I didn't bring a tent, sleeping bag, stove, or sleep mat with me! But I had clean clothes every day 🙂 and a full wash bag and shower kit too!
Too Much Stuff!!
It makes me chuckle thinking about it now. I realised at some point in the first couple of days that there was a lot in my rucksack that I didn't need and did end up sending some things back with a friend who walked with me one day.
Keeping In Touch With My Family
Every day I sent a WhatsApp report to my family, who were following my journey. I also kept notes in my private diary when I had the chance, and now the time has come to share this special journey with you, my dear readers.
Wednesday 17th January 2018
07:34 Diary entry I'm feeling ready, but a bit unsteady and achy in my body – too much yoga?? or maybe just general tension from being too busy organising everything. It's good that today will be a relaxed day and only a couple of hours of hiking to start with.
09:00 whatsapp message to family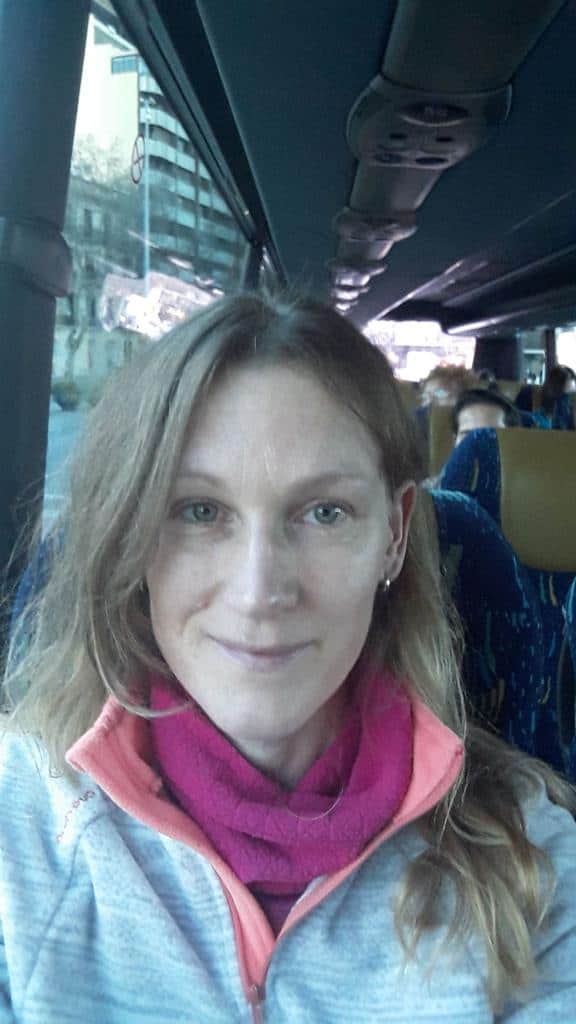 Arrival in Esporles
16:27 whatsapp: Arrived at Sa Fita hostel after a successful shakedown walk only getting a bit lost once 😉 I've got the entire dorm to myself. It's very quiet here so I'm in for a good night I think. I had a feast for lunch with Dolors at her house. She cooked aduki bean casserole, avocado salad and veg rice for me – yummy. She also insisted on giving me turron (almond nougat) to "keep my strength up". I'm going to cook dinner and breakfast in the hostel and swat up on tomorrow's route before an early start in the morning.
It was supposed to be 2 hours, but ended up as 3 as I took the wrong path and didn't realise for ages 😳
The walk was largely uphill on rocky but clear paths. There are many alternative hikes in this area, so once or twice I was muddled with which way to go. However, it wasn't too difficult to find the right path after a bit of consideration.
I loved that I got to see a mountain goat. The first of many on this trip.