What to take and what to leave behind
I would like to encourage you to learn from my gear mistakes from this trip. It pays to be minimalist when trekking up mountains, you soon regret it if you bring too much.
So here is my Mallorca GR221 gear list and take on what to bring and what to leave at home when you hike the Mallorca GR221.
I'm going to talk you through what I took initially, and then what got sent home as it became obvious that I wasn't going to use it.
Planning The GR221
I started by asking myself some questions and making an itinerary of the days with info on how long I would be walking, where I would stay, food possibilities etc
Although I no longer have the original plan, here is one that shows the week. I find it really helps me to have an overview of what my week is going to look like as an easy reference.
The original also contained telephone numbers of the hostels so that I could let them know if I was going to be late checking in.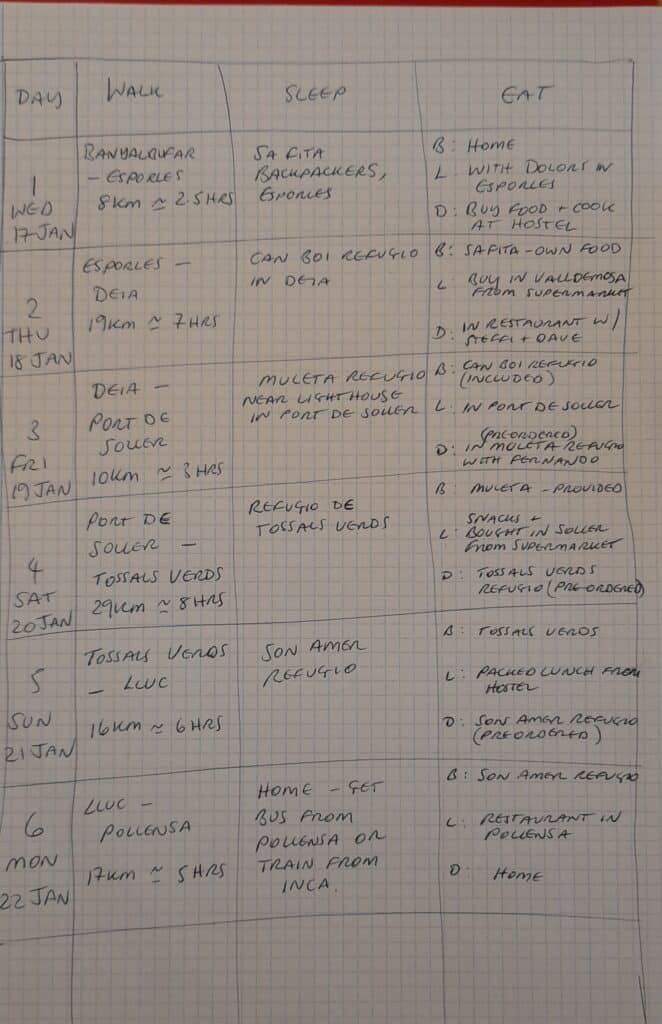 Checking what's included
I thoroughly researched the refuges and made sure I knew what would be included and available in terms of bed sheets, washing facilities and food. Using the above plan, I proceeded to reserve the hostels as well as the breakfast and dinners if available using this webpage. Some of them even offered packed lunches too.
Snacks and food
From studying the map I knew that once I got into the mountain section proper – that is from Soller onwards, there wouldn't be many places to get food. I wanted to avoid carrying food as much as possible and hadn't yet discovered dehydrated meals at that point, so I decided to bring a reasonable amount of dried fruit and nuts for snacks, and little else.
In hindsight, I brought way too much food, and it seems that I don't need as much as I thought to keep going for hours on foot. This is a common problem I believe.
Visualising the route
Now that the information was all at my fingertips, I tried to imagine what it would be like to walk the route. In my mind I went through what I thought a day would be like including the moment I woke up, navigating the route, photos, being hot, and cold, eating, drinking, and everything I would need for my evening wash routine.
From this I came up with my master list, which looked like this:
Mallorca GR221 Gear List
Clothes
Leggings and t-shirt for sleeping in
Hiking trousers x 1
Shorts
Underwear x 3 (wash as you go)
Socks x 3 (ditto)
Sports Bra x 1
Breathable t-shirt x 2
Long-sleeved breathable t-shirt (mid layer)
Fleece jumper
Snood (neck tube)
Warm hat
Gloves
Waterproof jacket
Windproof heavy fleece jacket
Food
Multi-vitamins
Magnesium/calcium supplements
Nuts/dried fruit (nuts 60g per day = 360g)
Navigation
Map and compass (this compass was too heavy!)
GR221 Guidebook (I had this one)
Notes on where I was staying when and where to eat (see above)
Random
Paracetamol/ibuprofen
Notebook and pen (to keep diary)
Phone charger
Microfibre towel
Washbag: (toothbrush and paste, mini shampoo and conditioner, soap, wet wipes, hand sanitiser, comb, hairband, vaseline)
Headtorch
Emergency foil blanket
Leatherman
Kindle
Extra t-shirts
Sit mat (I cut up an insulating mat)
Flask and plastic cup
Herbal teabags
Matcha tea and mini whisk (!)
Flip flops
Jack Wolfskin rucksack (it was old and weighed 2.8 kg!)
What To Leave Behind
When you spend most of your day climbing up hills, you soon realise that a heavy pack will make it extra hard to get yourself and your gear up the mountain.
Believe me, it didn't take me long to start thinking about what I wanted to chuck out and send home at the earliest opportunity.
Here's What I Sent Home
Leatherman – yeah, not sure what I was thinking I would do with this…cut off my arm if I got stuck in a rock maybe?? It's ridiculously heavy and not necessary.
Kindle – I was just too tired to read, and preferred to look and listen to nature, call my family or read the guidebook if I had time free. In future I would just use my phone to read if needed.
Extra t-shirts and fleece – two t-shirts are really enough, one for hiking during the day and washing at night, and the other as a fresh one for having dinner in the evening at the refuges. Having a quick-dry one for hiking makes it easy to wash and leave to dry overnight.
Notebook and pen – they were way too big and heavy, and most days I found that I was too tired to actually write anything. I would bring a small one in future, or just some sheets of paper instead of an entire book.
Matcha tea and mini whisk – these were a luxury which I loved at the time, but I wouldn't take them again. The whisk was a bit unnecessary and I really just needed a strong green tea to keep me going (I'm not a coffee drinker). A teabag would have saved me a lot of faffing around timewise, as well as taking up less space and weight.
Shorts – I went in January and was very sure that I wasn't going to use these when I let them go, so they got expelled. However, it was definitely hotter than I had expected most of the time, especially when climbing upwards.
Summary
In general I brought far too many clothes and nick nacks with me. When I was walking I was on the whole quite warm, except for one day when I was higher up and it was very windy.
If I were to do it again I would wear a breathable t-shirt, lightweight fleece, hiking trousers and a waterproof. Then I would have a lightweight puffy jacket in case I was cold in the evening (or at any time) and that would be enough. The clothes were so bulky and heavy to carry when I had to take them off, they became a bit of a pain.
It's important to be careful about bringing too many "just in case" items. They really aren't all that necessary really and can add up and weigh you down a lot. All those grams add up to slowing you down when going up steep hills.
For sure I learned a lot from this trip, which was my first taste of multi-day hiking and now realise that there is freedom in doing without some things for a few days.
To read my blogs on hiking the Mallorca GR221 route click here to read day 1 of the trail.