It's a good idea to review each camping trip after you come back and make notes of what went well, and what, um, didn't…at all! This is my review of how my three-day backpacking trip on the Norfolk Coast went.
***To read about the trip itself please click on the links at the bottom of this post.***
---
Disclaimer: Please note that this post may include affiliate links to products which may provide a commission to me at no extra cost to you. For more information, you can read my affiliate disclosure in my privacy policy. All opinions are my own, and I only recommend products I believe in.
---
In this end of trip review, I am going to go through the different aspects of my Norfolk Coast Path trip. This is something I recommend doing and personally do after all my trips. I find that I easily forget what I was thinking about the gear etc when I get home, so this way I can be clear on what I need to change before the next trip.
I'm going to look at the following: sleep system, clothing, footwear, weather conditions, food and cook system, gear, personal fitness, things I did right, finishing with a conclusion.
Sleep System
Sleeping Bag
I can only speak from my personal experience, but the OEX Fathom Evolution 200 sleeping bag was too cold for me, despite it being summertime in the UK. Or perhaps better said, because it was summer in the UK instead of somewhere warmer. I had between 8 and 10 degrees Celsius nighttime temperature, and both nights I woke up feeling shivery and cooler than I would have liked.
I think this sleeping bag would be perfect for around 15 deg Celcius for me personally. The alternative would be to bring warmer clothes to sleep in (and learn to acclimatise to the cold better).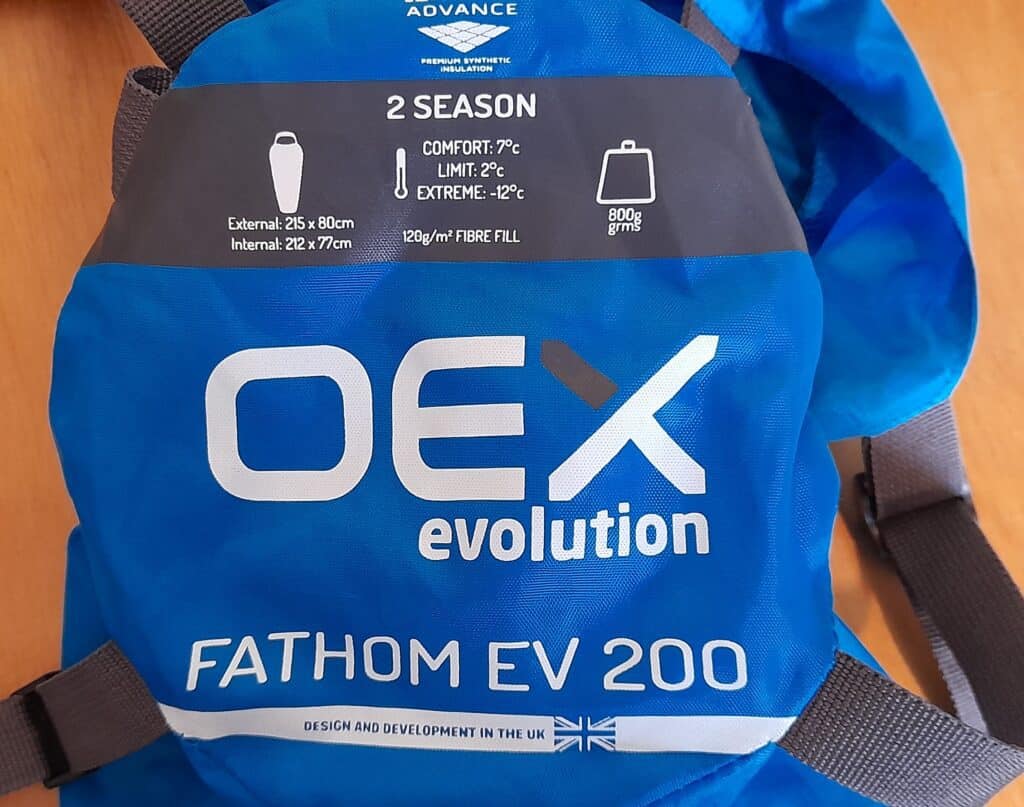 It has to be said though that I am a bit of a wuss when it comes to being cold. I blame spending a good chunk of my life living in Mallorca.
So I leave it to you to decide. Of course, there is the weight to consider, and this sleeping bag weighs in at only 800g, which for the price point is pretty good in my opinion.
Sleep Mat
I can keep dreaming of getting a Thermarest sleep mat. I slept on my budget OEX sleep mat, which is definitely a step up from a roll mat and helps a lot with insulation. However, it is a little on the thin side at 5 cm. This means that I generally have to sleep on my back otherwise my hip ends up on the ground.
It is also quite difficult to inflate as the nozzle lets the air seep out while you're taking another breath. I'm not sure how to make it better.
Clothing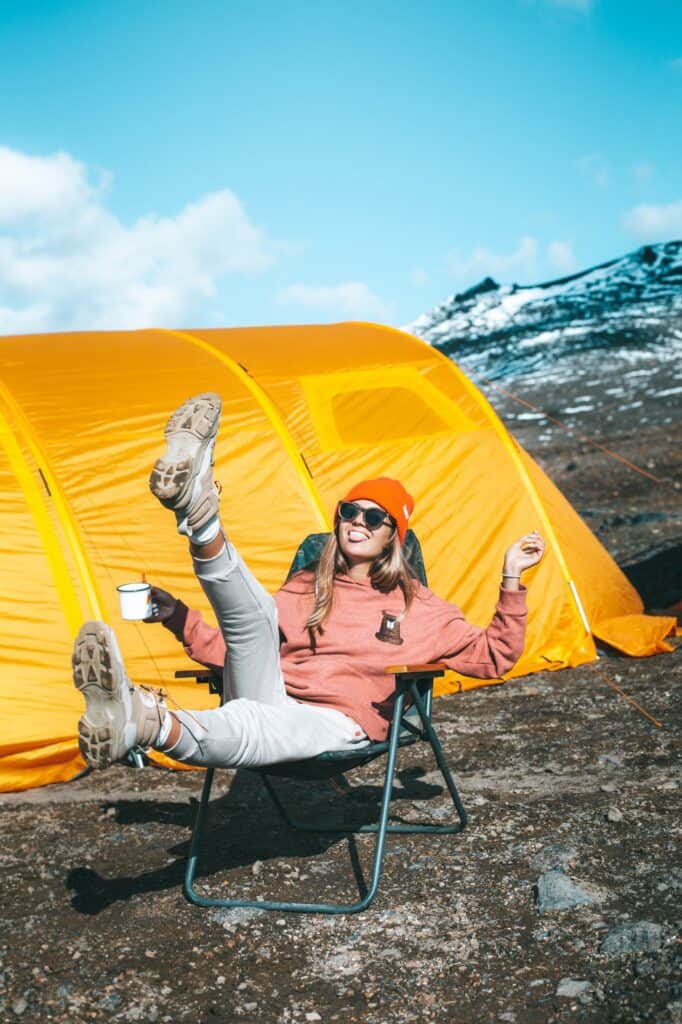 A warm, lightweight puffy jacket would have been a good option in the evenings and as an extra sleeping possibility. The second night, I literally put on ALL of my available clothes (except waterproof jacket) and was still pretty cold. But there weren't a lot of options really as I didn't bring much with me. There was basically a fleece and a couple of long-sleeved t-shirts. In hindsight, some thermal leggings and a merino wool top would have been good options.
My Craghoppers hiking trousers, which I've had for many years now and are my first pair of proper hiking trousers, are still holding their own and were perfect. I put my running shorts underneath them in the morning. That way it was easy to whip them off when I warmed up as the day got hotter. (It makes it sound like I run, I don't, I just have running shorts!).
One observation I did have was that it could be useful to have some water-resistant hiking trousers at some point. The Craghoppers do dry out quickly, but they also get wet quickly. Waterproof overtrousers would be too hot in warmer weather.
Footwear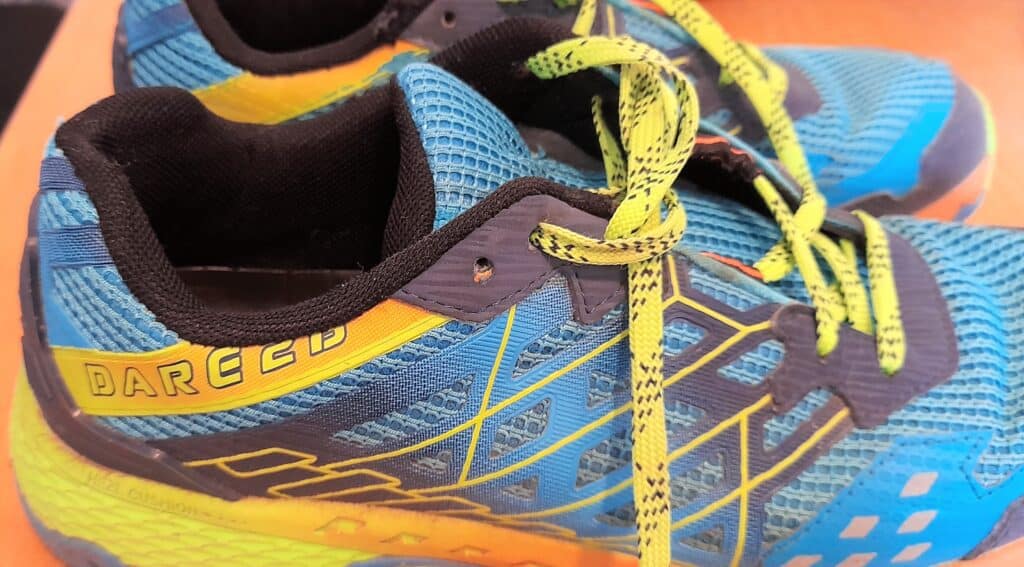 The Dare2B trail runners I wore were basically fine. They cost me about £25-30 in the sales from Go Outdoors about a month before I did the trip.
However, I did have a couple of issues with the upper of the right shoe rubbing on the top of my right foot. It seemed to upset the nerves there or something. The skin was thankfully unbroken though.
They probably needed to be worn-in more, as they were basically brand new before doing long days of back-to-back hiking. At some point I will perhaps spend a bit more, but for now I'm still on a tight budget.
I really just wanted to test them out on longer hikes to see how they faired. Most of the time I am using my hiking boots, so there's no need to change them just yet.
Buying something that can handle longer distances is important to consider when buying new shoes. I have discovered that cheap shoes don't last very long and that in the long run, you tend to end up spending more.
The Weather
Always assume it is going to rain in the UK!! Yes, even when the forecast is for sun and not a single cloud!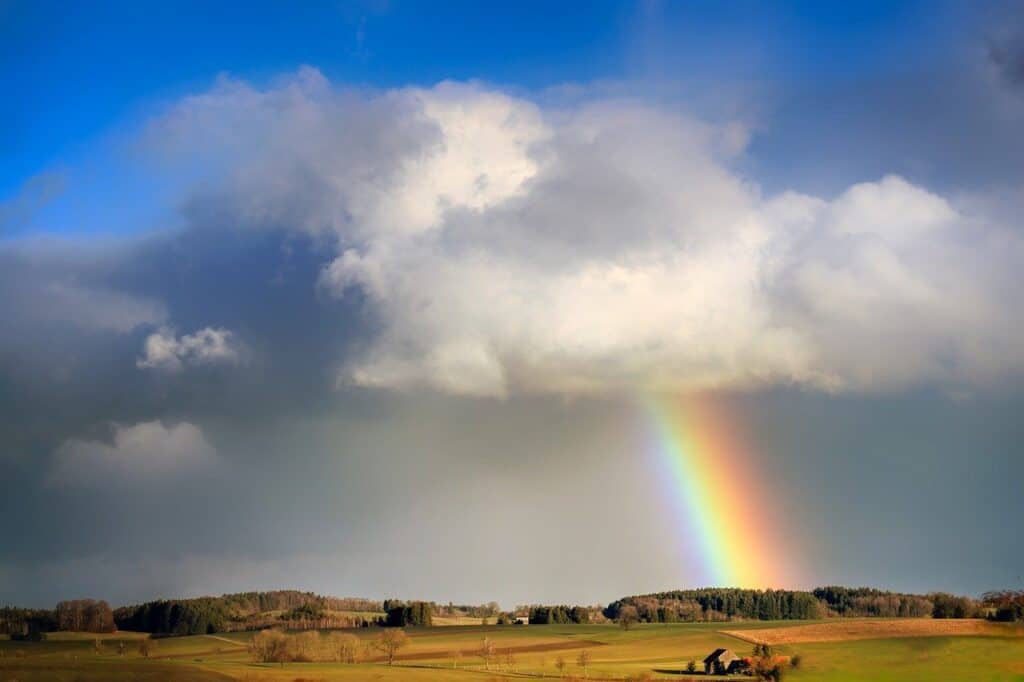 It has rained on every single trip I've done here so far, and this one was no different. I didn't bring my waterproof trousers and I should have. Also, as previously mentioned, getting some splashproof water-resistant hiking trousers would be a good idea for the future.
Food and Cook System
Before going I thought I'd planned my meals well enough, but afterwards, I realised that in future trips I would need to be much more detailed than I was this time.
It's better to create a really detailed meal plan in advance of what you're going to need to bring and where you will need to stock up from local shops. This involves doing some research before setting out, and in my case, even more so because a) I'm on a tight budget, and b) I'm vegetarian.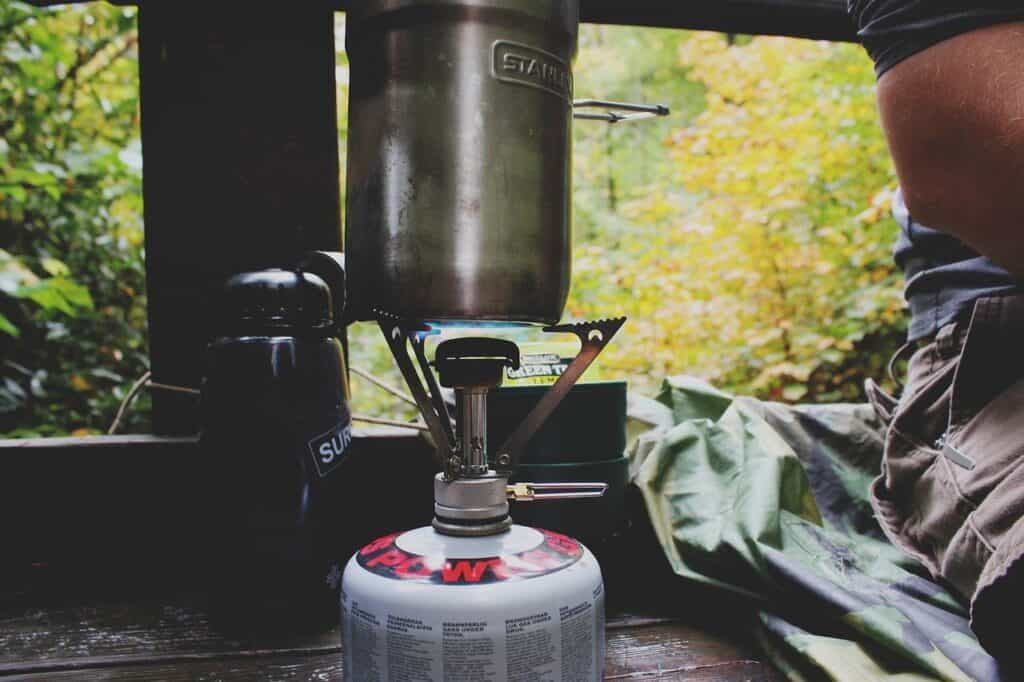 Preparing tasty healthy dinner options are essential after a long day's hiking. Over 3 days the junk food starts to add up and it just made me feel bad.
I ate a lot of chocolate bars, nuts, cake, flapjacks and peanut butter sandwiches. All are fine in moderation, however, there needs to be a balance. At home, I eat a whole foods vegetarian diet and save the biscuits for long day hikes. I don't eat a lot of sugar, so to suddenly and drastically change my way of eating when on the trail leads to uncomfortable digestion.
Coming soon will be more foody blogs to cover this topic more thoroughly. So keep your eyes peeled 😉
Stove and Utensils
I took a metal mug with me similar to this one AND the Stanley Cook Set pictured. I only needed to bring the insulated cup that came with the Stanley stove set. There was no need for both cups as I was eating dehydrated pre-packaged meals like these ones.
Gear
Navigation & Tech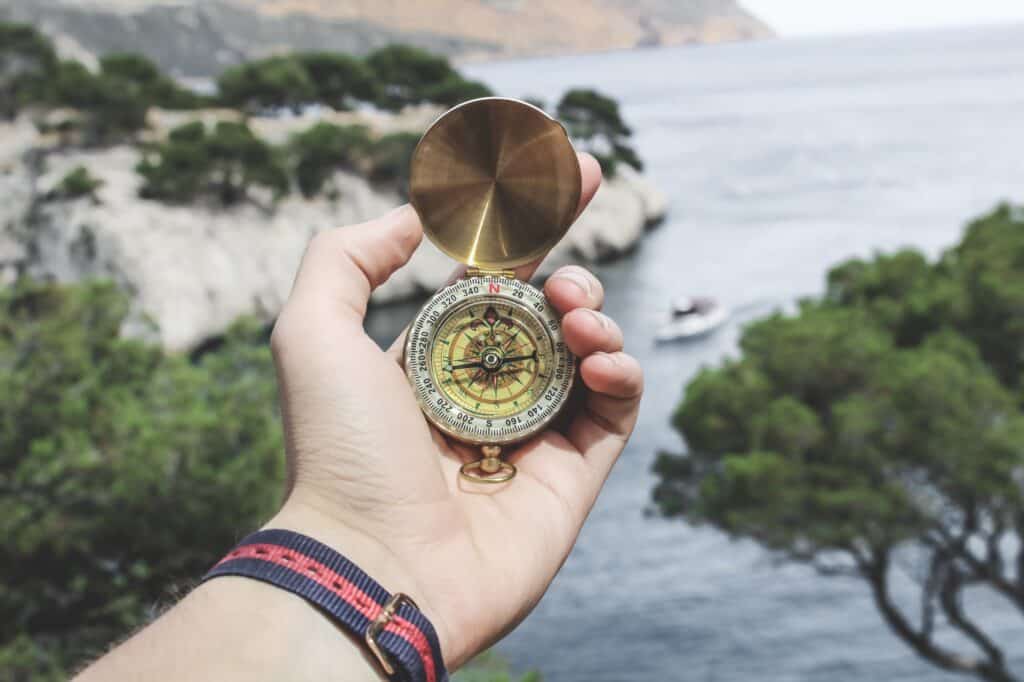 For navigation, I used the Ordnance Survey maps app on my phone. It would have been good to also have a backup plan with the paper version in case my phone ran out of battery, or if I had dropped it in water. It was fine this time, but I was very aware that I was sucking the juice out of my mobile. Maybe tracking my trip on Strava as well as using it for navigation was too much.
I did bring a battery pack with me, which added to the weight but was worth it. I would prefer to rely less on technology in future.
Rucksack
My very old Jack Wolfskin rucksack caused me a lot of problems and I could notice almost instantly that it was uncomfortable and going to give me lower back pain from where it was pushing into my back. It also hurt my shoulders and upper back – so all in all my whole back!! I definitely need to find a replacement pack before the next trip. (This I did and now have an Osprey Exos 48, which is marvellous.)
Trekking Poles
My trekking poles (or hiking sticks as I often call them) are the cheaper ones from Decathlon and have a comfortable grip. However, they aren't all that light on the whole.
I only brought one of my poles and really should have brought both with me. It helped me when I started to get tired, but I was unbalanced.
Personal Fitness
Yet again I pushed myself too far for my capabilities and did close to 20 miles on the second day which is just too much for me. I had a limited amount of free time to do this trip, and because of that, it worked out with the planned timing and seemed like a good idea at the time, but on the third day I suffered from it too much and had to go home earlier than I would have wanted.
Things I did right
✅ The way I am packing my bag now keeps things simple and easy to find. It is working really well to have waterproof dry bags to separate my gear and find what I need quickly.
✅ The Stanley Stove system also works well although it may be good to bring a windbreak for it if I want to cook for longer.
✅ My clothing was basically good except needing a warm jacket for the evening.
✅ My one-person tent (Vango Nevis 100) is perfect for trips like these. It is light, easy to put up, and the inner goes up with the outer, so no problems if it's raining when you stop. (Note: the image above links to the 2 person version of the same tent, but they look the same.)
Conclusion
All in all, this was a great trip and I was happy with my gear.
Really, the breakdown above is based on comparing this trip with a perfect trip, which I'm not sure is ever really achievable. The aim is to get smoother and more practised at what to take for what conditions so that I can get the maximum out of every trip. This one came dammed close.
My comfort levels are definitely increasing I would say, thinking about the Boudicca Way where I gave myself pesticide poisoning(!).
I am more minimalist with what I bring, so my carried weight is improving. My footwear was ideal for the conditions and my budget, and the cook system was fast and efficient as well as compact.
If you have a funny backpacking gear experience that you'd like to share then I'd love to hear from you in the comments below.
Please follow the links on the highlighted text to read Day 1, Day 2 and Day 3 of my 2019 backpacking trip on the North Norfolk Coast.